Looking for things to do in the summer with your kids? Here is a super easy and fun collection of Summer Activities that you can try this summer. Summer is the best time to go outside, explore nature and get messy. These unique activities are engaging, fun, and educational as well. My favorite is the Bug Hotel💚. Find out why☟.
By Mom Brite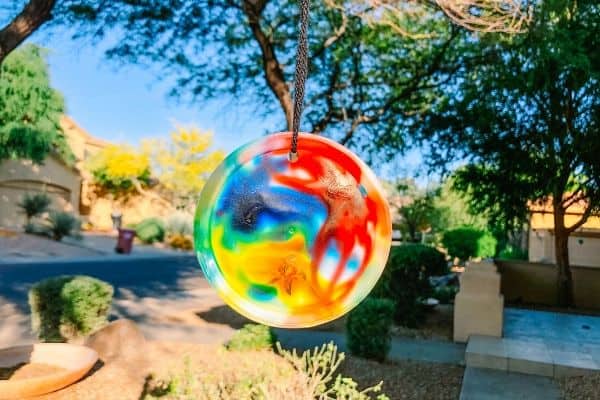 Materials
Elmer's white glue
Food colouring
Toothpick
Plastic lid (the lid needs to be flexible enough so you can bend it to get the suncatcher out)
Hole punch
String
Making colorful sun-catchers by painting on wet glue is an easy activity your kids will love! It takes about 5 minutes for each glue sun-catcher and then you just need to wait for the glue to dry!
By Mess for Less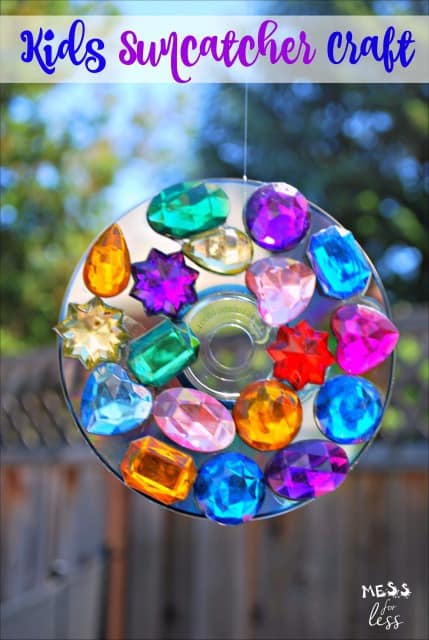 Materials
Gel Glue
CD
Jewels and gems in assorted colors
Invisible thread or fishing line
Using gel glue ensures that glue doesn't show after it dries. This is a fun craft that the kids can do independently. It is also a great way to upcycle old CDs.
By Two Pink Peonies
Materials
Water
Dish soap (any brand or colour will work)
White corn syrup
Glycerine
Corn starch
Bubble wands
These unbreakable bubbles are the perfect summer activity to get outside and enjoy the warmer weather. They are easy to make and kids love them!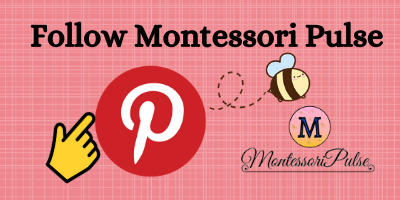 By Lil Tigers
Materials
1 roll of heavy-duty foil
water
stones
Let's learn about water and build your own DIY foil stream in your backyard. The kids will enjoy this water play
By Kids Activity Zone
Materials
Small jars with cork lids or recycled jars
Salt (at least one full container)
Food colouring
Sandwich bags
Funnel
Spoon
Hot glue gun
Skip the colored sand and make your own color salt for jars! This quick and easy Colored Salt Jar craft is fun to do with kids.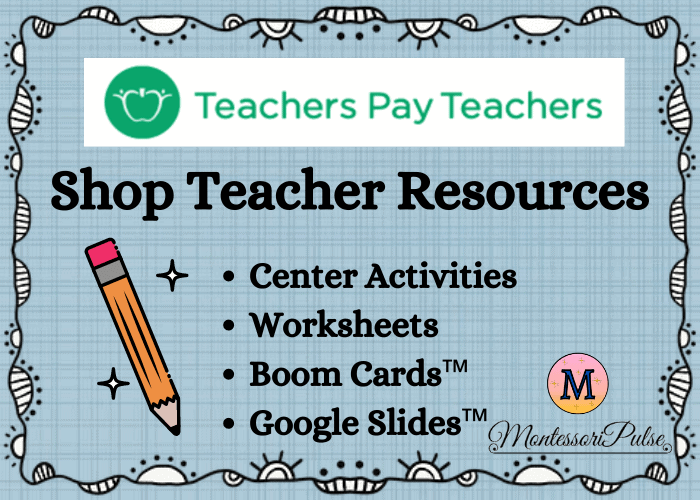 By Get Your Holiday On
Materials
Toilet Paper Rolls
Yellow and Blue construction paper
Ribbon (patriotic-themed)
Scissors
Glow-in-the-dark Sticks
Red Tissue Paper
Glue/Tape
Candy, Toys, and Prizes
Learn how to build a glow-in-the-dark firework full of yummy treats. Perfect for a fun summer craft.
PIN 📌 them☟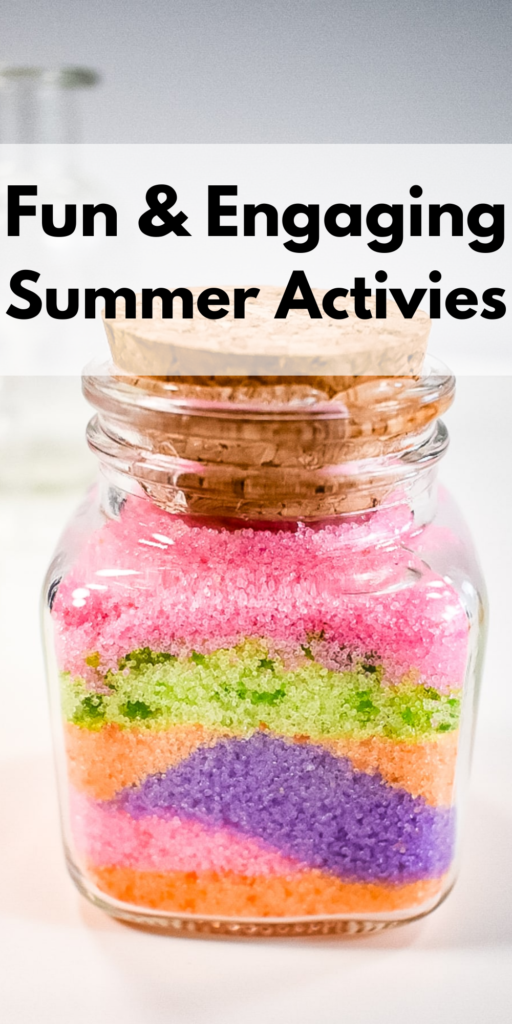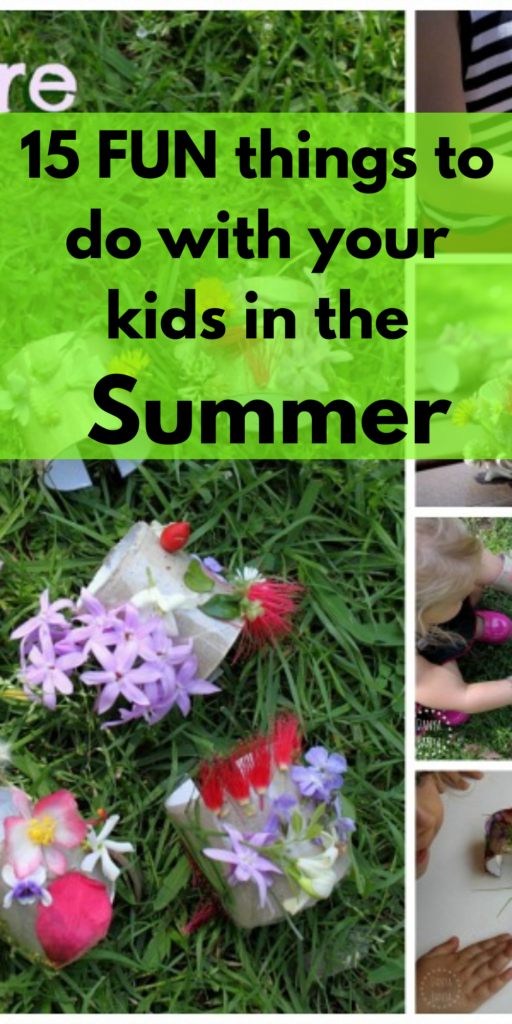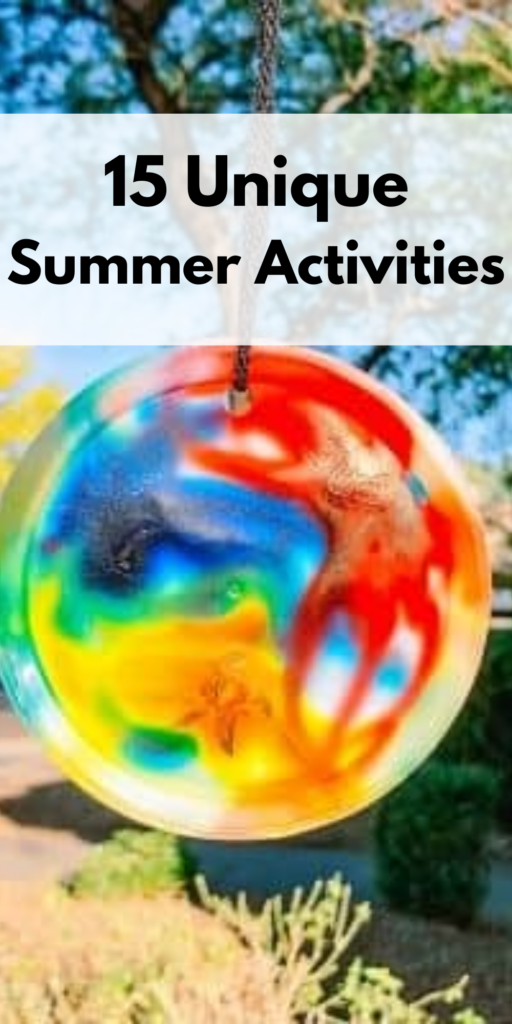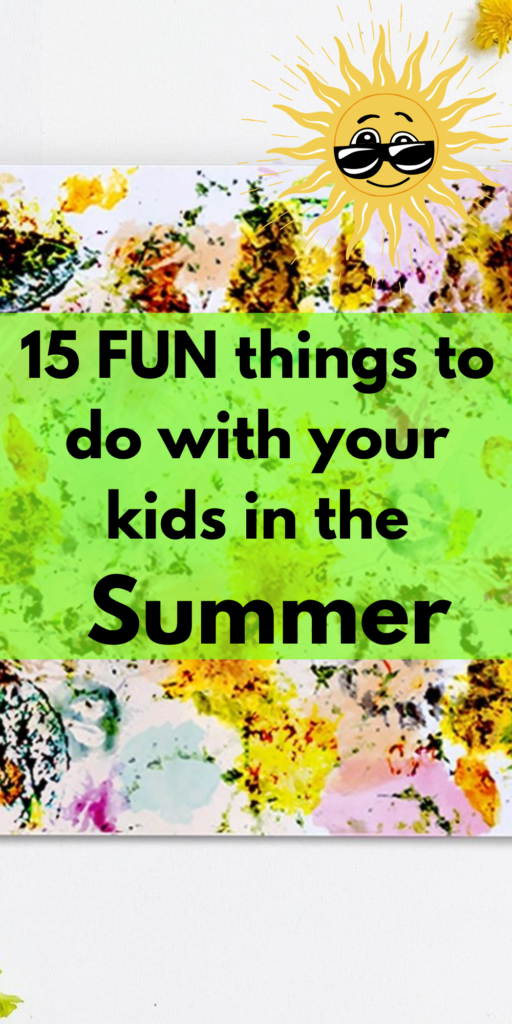 By Barley & Birch
Materials
Paper (cardstock or watercolour paper works the best)
A collection of flowers and leaves in a variety of colours
A towel
Wax paper
A hammer, rubber mallet or similar
Optional Materials☟
Watercolours
Other mark-making tools
Salt
Glue (for collaging)
Sticky nature cards are the simplest kids' craft to set up ever! They're portable, and a great way to record a day outside. You really can get the kids going on this in under a minute.
By Charlene Hess
Materials
Empty cardboard tube (such as one from used up paper towel roll or wrapping paper roll, or even a toilet paper tube)
Cardstock or Cardboard (such as a piece from a cardboard box)
An old CD
Coloured paper, paint, crayons, or stickers etc to decorate
Pen or pencil
Craft knife, razor blades, or scissors (adult supervision required)
Learn about light refraction while having some summertime fun! Make a homemade spectroscope today.
By Danya Banya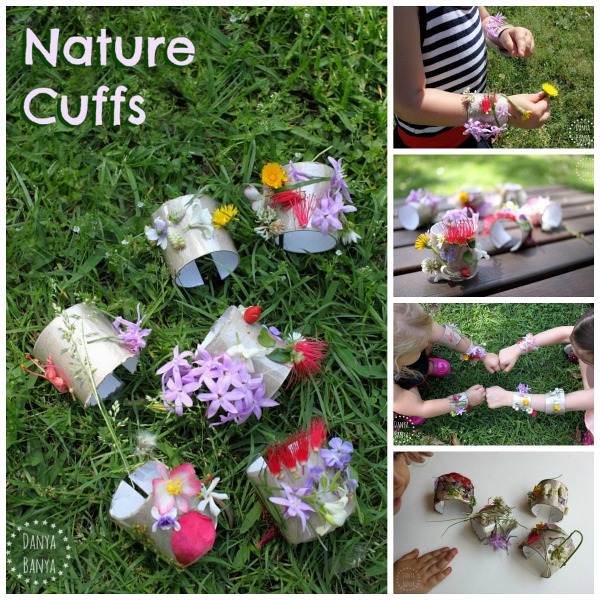 Materials
toilet paper rolls (or similar style cardboard rolls)
scissors
clear packing tape
knife (optional)
and nature!
This is such a fun way to upcycle toilet paper rolls and incorporate nature.
Bubble Wand Making Station
By Red Ted Art
Materials
pipe cleaners
colourful beads
cookie cutters
scissors
Making Bubbles is a must-do in the summer. This is a fun way to keep your kids engaged by making their own bubble wands. My favorite thing about this craft is is it a great fine-motor skill activity
By The Soccer Mom Club
Materials
Washable paint (homemade recipe below)
Bubble wrap
Poster paper or matte poster board
Get active and create vibrant art at the same time with this stomping bubble wrap painting!
By CraftBits.com
Materials
Glue gun
Scissors
Floral Wire
Bamboo skewer or floral wood pick
Craft acrylic paint
Small "Y" shaped stick
4 Maple Tree seeds (2 Large & 2 Small)
Craft paint brushes
Related Posts
By Red Ted Art
Materials
A large plastic bottle cut into two cylinders,
sticks,
pine cones,
bark
anything else you can find – bamboo with its holes is great too
This is my favorite activity. Because it involves many things I love. Twigs, sticks, barks, pine cones, and BUGS!
By Mom Junky
Materials
Oatmeal or another round container with a lid
Nylon screen
Craft scissors
Glue gun
Bead caps
Twine
My boys love bugs and bugs deserve a special place to hang out, don't you think? I found an awesome way to make a DIY bug hotel! A bug Hotel is a structure, usually made with natural things from your yard.
Mud Kitchen Recipes
By This Tiny Blue House
Materials
Let kids use their senses to explore and play with mud and other natural elements with these fun mud pie recipes
By Lil Tigers
Making a submarine porthole is super easy and requires materials that can be purchased inexpensively at a dollar store. Children in preschool, kindergarten and early elementary school will enjoy this activity.