My favourite thing about Spring is decorating my classroom with colourful and vibrant spring decorations. The best thing is they are all cute crafts done by my children! These Spring Crafts for preschoolers are super easy to make and budget-friendly too. Children love animals insects flowers or anything to do with nature. Spring is the best opportunity to learn and explore nature. I have always loved teaching spring themes and making spring crafts. Here I have gathered a collection of my favourite spring craft ideas.
By Fluxing Well
The best thing about this craft is minimal prep time. There is no pre-cutting. This is also a good fine-motor skill activity. This is a great craft project if you have a large group of children. You will get a great outcome with minimal supervision. The supplies are pretty much things you should already have at hand.
Supplies:
White drawing paper cut into 6-inch squares. (or light blue for very young children, to eliminate having to paint the sky)
Sharpened pencils for sketching sharpened pencils with brand new erasers for making the dots of paint
Tempera paint. Red, blue, green, brown and white (or you could have students mix yellow and blue to make different shades of green)
Brown marker (if you don't have brown paint)
Paper plates to use as a palette
Paper towels for blotting
By Crafts by Amanda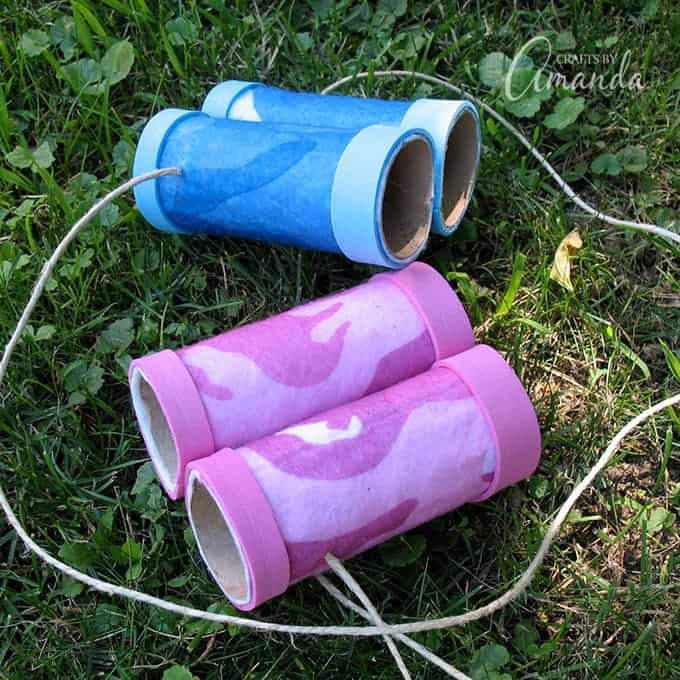 These cardboard tube binoculars are a great rainy day craft for kids. They can use them to go bird watching, as a camp craft, or as a nature craft!
Supplies:
2 cardboard bathroom tissue tubes
1 sheet camouflage felt
scissors
white craft glue
craft foam to match your felt
6 rubber bands
40″ piece of twine or yarn
pen
Threading is a Montessori Practical Life activity. They help refine fine motor skills and prepares the child for writing.
By Champagne and Sugarplums
Supplies:
Beads
Twine or string
Scissors
Branch
By Hunny I'm Home
Supplies:
A bowl of fruit cereal
A few full-sized marshmallows
String, A plastic yarn needle.
By Imaginative Homeschool
Supplies:
Wax paper
Flower petals or leaves (just raid your garden),
A pencil,
A glue stick,
A hole punch, A piece of yarn or twine.
By Red Ted Art
Supplies:
a packet of cress
some eggshells
cotton wool
some water
The following is a great way to practice gluing and pasting skills. The materials are things you might already have at hand. If you want to add the cutting skill as well you can always leave that for the child to do. In my Montessori class, I have done this same project with coloured tissue paper. I let the children tear the tissue papers into small pieces and squish them into tiny paper balls. That way it will be a two-day craft project. The first day can be a group project where they tear and make paper balls. On the second day, they can paste them.
By Kidz Craft Corner
Supplies:
Glue Sticks
Colored Paper – 1 page for each colour of the rainbow
Cotton Balls – 8 to 10 needed
Rainbow Template
Here is another adorable rainbow craft idea that I found. The best thing about this is marshmallows!. Yes, my advice is to get some extra marshmallows just incase. Because once they get glue in them you can't eat them. If there is a marshmallow emergency(wink).
By DIY Nuts
Supplies:
Marshmallow (white or coloured)
Cardboard
Sharpie or Pencil
Glue
Food colouring (Optional)
I love ladybug crafts. They are fun and easy to make. The best thing about ladybug crafts is they are colourful and vibrant. You can even decorate the classroom and it will brighten up the place. Here are some of my favourite ladybug crafts
By Family Focus Blog
Supplies:
Red and Black Paper Plates
Scissors
White Paper
Pencil
Glue or Tape
By Mom Brite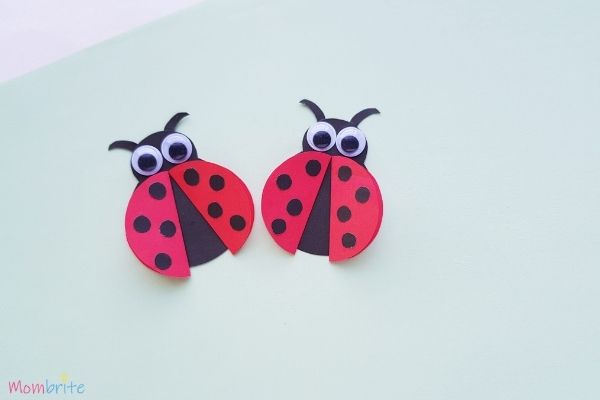 Supplies:
Red and black craft papers
Craft glue
Pencil
Googly Eyes
Scissors
Free ladybug template (download form located at the end of the post)
By Fun Handprint Art
Supplies:
egg carton
red paint
black glitter glue or black paint
paintbrush
black pom pom
pipe cleaner
glue or glue dots
scissors
Butterflies! yes, my next favourite thing about spring is butterflies. The best thing about butterfly crafts is that you don't have to stick to certain colours. The children can be creative and choose their own colours. Here are some of my favourite butterfly crafts.
I picked two coffee filter butterflies because they give the best wing effect.
By Red Ted Art
Supplies:
Coffee Filters
Watercolours or food colouring
Pipette
Googly eyes
String
Craft Sticks
By Honey and Lime
Supplies:
white coffee filters
watercolour paints
coloured pipe cleaners
paintbrushes
By Green Oklahoma
Supplies:
Empty Toilet Paper Rolls
Construction Paper
Craft Eyes
Pipe Cleaner
Paint Pens or Markers
Hot Glue
By Mom Brite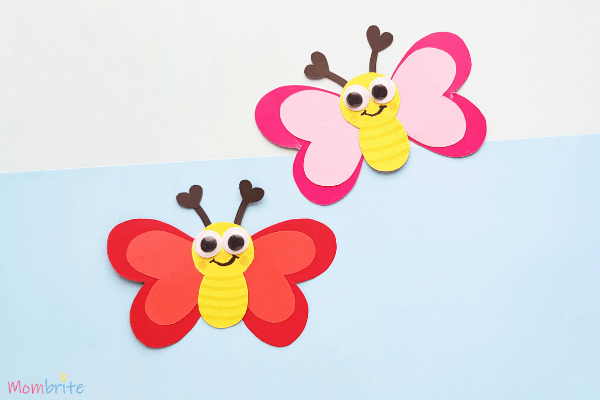 Supplies:
Free paper heart butterfly craft template
Coloured craft papers
Craft glue
Googly eyes
Black marker or Sharpie
Pencil
Scissors
Pink and gold markers (you may substitute with other colours)
By Glitter on a Dime
Supplies:
Neon Dot Markers
Glue
Paper Plates
We can't talk about spring without talking about bumblebees. It a great preschool theme to add to your lesson plan too. There are tons of bee crafts out there. These two are easy to prepare and budget-friendly.
By Simple Everyday Mom
Supplies:
Paper plates
Yellow paint
Paintbrush
Coloured card stock or construction paper (in black and light blue)
White card stock
Black pipe cleaners
Black marker
Glue stick
Scissors
Tape (optional)
Paper trimmer (optional)
Bee craft template (download form located at the end of this post)
By Mom Brite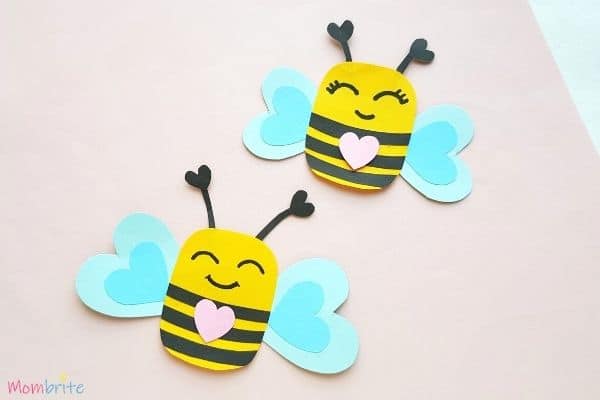 Supplies:
Free heart bee craft template
Coloured craft/construction papers
Craft glue or glue stick
Black Sharpie or marker
Pencil
Scissors
Bumblebees, butterflies ladybugs, they all love flowers. There are too many flower crafts out there. I picked some unique and easy flower crafts for you to try.
By Emma Owl
Supplies:
Corrugated cardboard from your recycling box
Tape or sticky tape to keep the flowers rolled up.
Kids paint. These are great!
White paper or cardboard. We used A3 size – so a little bigger! Use whatever you have.
By Emma Owl
Supplies:
The tree template on an A4 sized piece of paper or card
Calligraphy paintbrush (optional)
Q-tips (earbuds)
Three paint colours, dark pink, light pink and white
By Go Places with Kids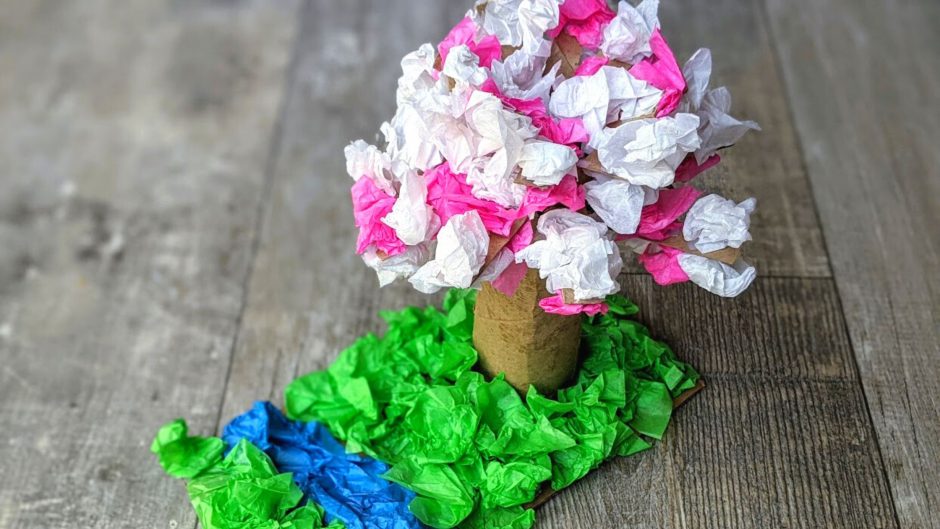 Supplies:
Tissue paper (pink and white, green and blue optional)
Paper towel roll
Scissors
Glue
A piece of cardboard
By Emma Owl
Supplies:
A large piece of thick paper or cardboard for the background. We used an A3 size – so a little bigger to give us more space to work with!
Coloured cardboard or paper for the vase, stems, and flowers
Scissors & Glue
A black marker/colour markers if you want to add designs to your vase.
Easter is one of the most loved Spring celebrations. There many reasons to love Ester. Making Easter crafts is one of them. Here are few cute and easy Easter Crafts.
By Lil Tigers
Supplies:
paper or canvas
yellow and orange finger paint
paintbrush if needed
red and black markers
By ConservaMom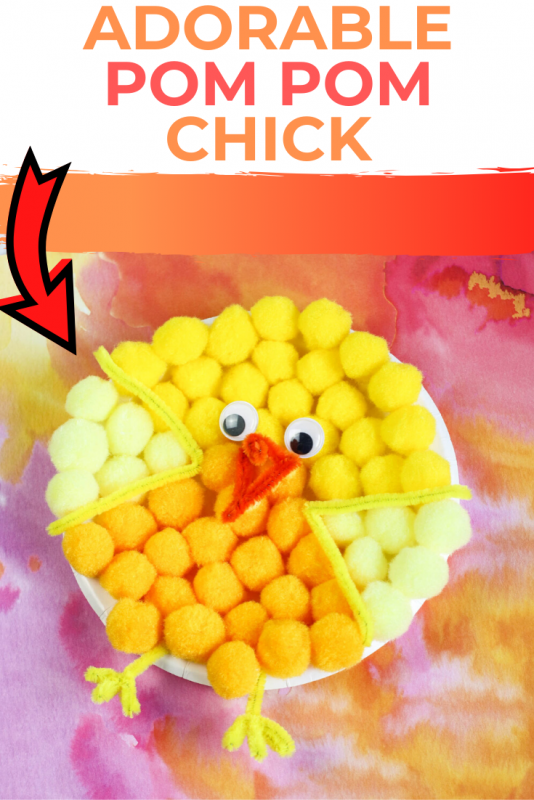 Supplies:
7-inch paper plate (dessert size)
Yellow pom pom balls (in 3 shades if available)
2 wiggly eyes
2 yellow chenille stems(pipe cleaners)
1 orange chenille stem
Quick-dry tacky glue or school glue
By Simple Everyday Mom
Supplies:
Coloured card stock (in yellow, dark yellow, orange, and pink)
White card stock
Brads
Pencil
Hole punch
Glue stick
Scissors
Handprint chick template
By Mom Brite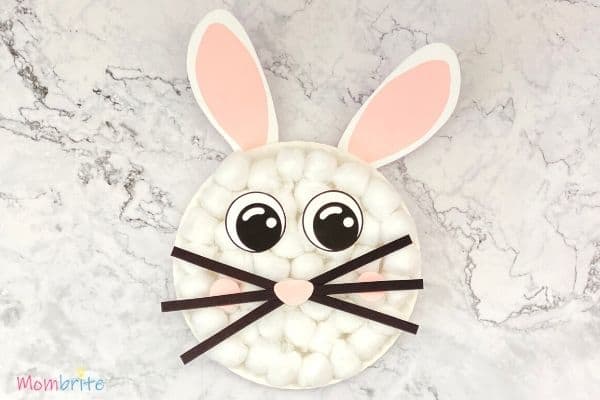 Supplies:
Free cotton ball bunny template
White, pink, and black printer paper or cardstock
Paper plate
Cotton balls
Scissors
White school glue or tacky glue
By Easy Crafts for Kids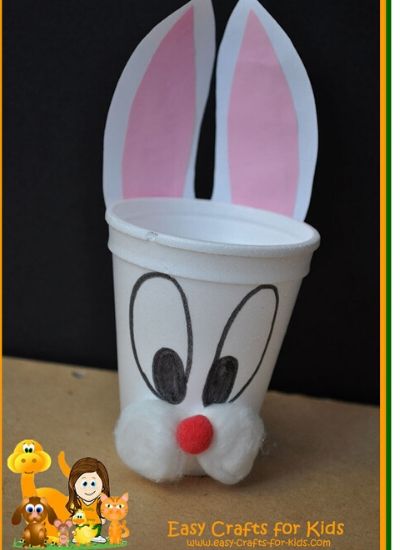 Supplies:
Paper or Styrofoam cup
Construction paper (white and pink)
Cotton ball
Pom pom (red or pink)
Black marker
Scissors
Glue