Practical life activities are about children learning how to do living activities in a purposeful way. It is about equipping them with basic skills to achieve independence in their day-to-day lives.
Children are naturally interested in learning activities they have witnessed before. Some examples are washing their hands, sweeping the floor, or wiping the table. They also like to learn about everyday routines like food preparation or dressing. It is empowering for little ones to master ´practical life´ activities. Everything you teach your toddler now will help them to grow into a self-sufficient and confident adult. Plus, it makes your everyday lives run more smoothly.
Practical Life Skills and Characteristics
Practical Life Activities develop these skills
motor control and coordination
independence
concentration
self-confidence
a sense of responsibility.
Characteristics of Practical Life Activities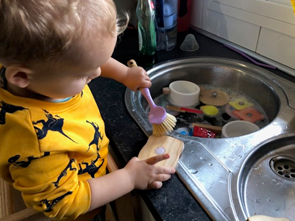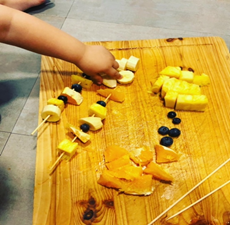 Keep it real: Wash dirty dishes with real soapy water and cut fruit with a real knife. Teach about knife safety and hygiene. Example: place the knife flat on the surface, tip pointing away.
Safety: While materials need to be functional (a knife that is sharp enough to cut), the priority is safety. Sharp objects need to have rounded ends and corners that are sharp should be covered.
Self-Contained: The adult in the environment is responsible to make sure the activity is prepared with everything the child will need for successful completion of the activity. By seeing the order, the child internalizes it.
Location of Materials: Materials should be easily accessible to the child. For example, all plates, bowls and cups should be stored in an area that the child can easily access. Places like a bottom drawer, small cupboard or low shelf are great.
Child-Sized: Materials must be proportional to the child. There are many child-sized brooms and dustpans and stainless-steel cutlery on the market.
Sequential and orderly: Each activity has a beginning, middle and end. Lay materials out in order, from left to right.
Natural Materials: Natural materials offer more opportunities for multi-sensorial experiences. For example, using a wooden chopping board and cooking utensils.
Be a part of the process: This helps the child to learn that they must wait, and life is not always about immediate gratification. Things require preparation.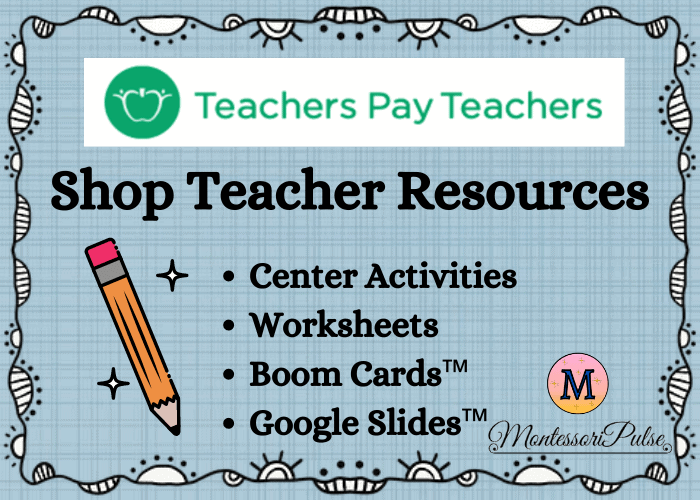 Types of Practical Life Activities
Care of Self
These activities provide the means for children to become physically independent. Activities include learning to wash their hands, self-feeding or putting on /removing their clothing. Note: it is best to teach undressing first; dressing requires more planning, balance and dexterity. Start with sock removal, then usually trousers.
Start by following your child's current interest.

Do they want to brush their hair, select their own clothing, or use the bathroom sink?

Prepare an environment that meets their needs.

Place a mirror at their eye level.
Place hairbrush, toothbrush, tissues etc in their reach.
Install low hooks or low shelves to accommodate their clothes self-care belongings.
Provide a stool for access to things you cannot move lower.

Make practical skills a normal part of their routine. Not just something they practice sometimes. Each household will have its own expectations but some of the ones in our house are listed below. When you:

remove your dirty clothes, you place them in the dirty laundry basket.
enter the house you remove your shoes and place them on the shoe rack.
remove your winter coat and hang it on the hook.
bring in your backpack, place it on the shelf.
spill water, wipe it up.
have a runny nose, wipe it.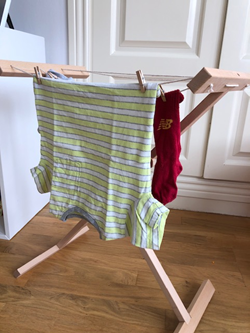 Care of the Environment
Learning how to keep their environment clean and orderly. This can include setting a table, putting away toys, washing dishes, and watering plants.
5 Great Practical Life Activity Ideas you can try today
Setting a Table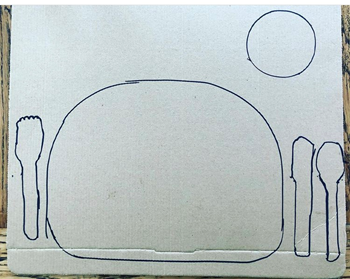 Draw around the items and where you want them to be placed on cardboard. It won´t take them a long time to learn, so you won´t need the DIY placemat for long. Eating together at the table really helps to develop these fine motor skills and basic table manners.
Folding clothes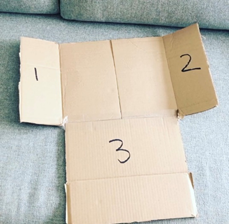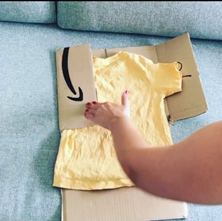 Open a box and use the natural fold as a guide for folding shirts.
Label the sides a1 and 2, the order in which to fold.
Label 3 on the bottom edge as it is the last part to fold.
Wearing Shoes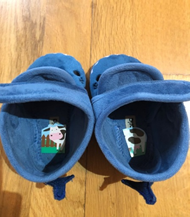 Cut a sticker in half and place it inside the shoes. Make sure the sticker has a clear order (my example below, the cow clearly has a head /tail to fit together).
Learning Tower
A product that is super helpful in the kitchen is a learning tower, also called a Montessori Kitchen Helper. The learning tower was one of the best purchases. I love cooking, so I spend a lot of time in the kitchen. My son is very curious and always wanted to see what I was doing. Mealtimes were a challenge until he felt he could be a part of the process.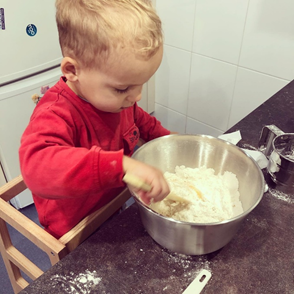 A learning tower is a raised platform designed to lift a toddler up to counter height. It enables the child to be much more independent and fully participate in cooking activities. I would be lost without my learning tower. My son uses it for food preparation, handwashing, accessing items in the fridge. It is equipped with safety rails to stop toddlers from falling. The recommended age for most learning towers is 18 months plus.
Buttons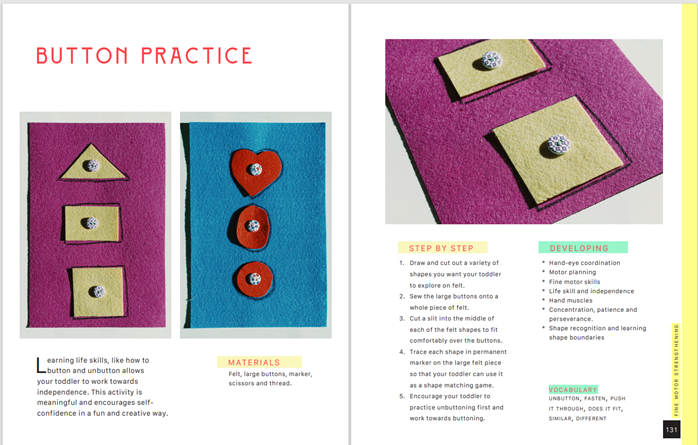 The below activity can be found in my book, "Simple Activities For Toddlers: A Practical Play-At-Home Handbook For Parents".
Learning how to button and unbutton is tricky for little children. The trick is to teach your child to unbutton first. Creating a non-clothing item that they can easily interact with helps them develop the fine motor skills needed to complete the task.
As a parent, teaching them basic self-care skills can allow them to develop important skills they need in life. Real learning takes place from experience, so practice, practice, practice.
In summary, teaching your toddler practical skills is essential for their development. They learn so much more than just taking care of themselves. Through feeding themselves, you can teach them about healthy eating. Cleaning up, they learn the importance of hygiene. Over time you will see their confidence, decision-making and independence grow.
Author: Lisa Forsythe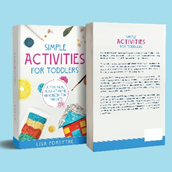 Lisa Forsythe is a teacher, a mum and author of Simple Activities for Toddlers: A Practical Play-At-Home Handbook for Parents. She has been a member of the teaching profession for over 15 years and is passionate about play-based education and learning.
Instagram @simpletoddleractivities
Twitter @LisaFor97702508
Facebook: https://www.facebook.com/Simple-Toddler-Activities-108767527964318/