We know how important phonics is for preschool learning. But how do you make phonics fun? It's all about having engaging phonics activities available on the shelf. Have you ever noticed that children tend to run to the same activity every day and they never get tired of it? Those kinds of activities are the ones that keep their hands and minds busy.
The best way to keep your child's enthusiasm is to add new and engaging activities more frequently. As preschool teachers and homeschooling moms, we know that activities are never enough. It is a good idea to have a bank of fun activities stored up, so you can rotate them weekly or monthly.
I put together a list of easy phonics activities that you can add to your lesson plan. These are not all Montessori activities. But I have found them very effective. You can always be creative and make your own phonics activity with any material you have at hand. the key is to keep the fun and engaging.
Engaging Phonics Activities
Distance Paring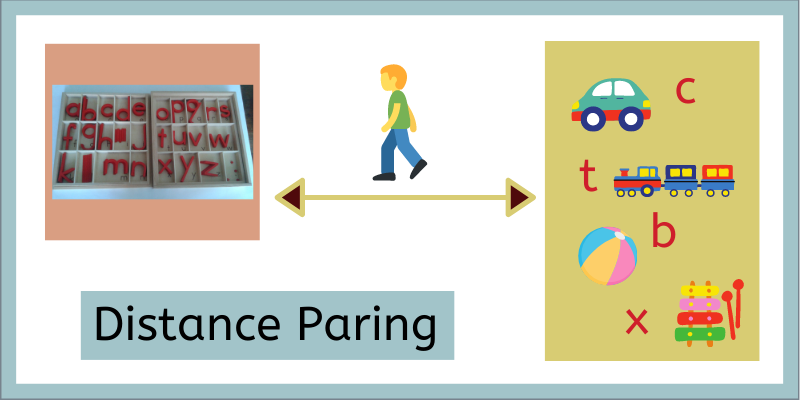 Distance Paring is a Montessori strategy that allows children to move. It is the same as the matching game, but much more engaging than a regular one. Have two tables at each end of the classroom. Lay picture card or small objects on one table. Keep a Moving Alphabet box or the corresponding sound cards on the other table. If you are using the sound cards, make sure to lay them separately so it's easy for the child to pick. Do not keep them in a stack. Then let a small group of children take one object or picture card at a time and keep on the matching sound card. If you are using the Movable Alphabet, the child has to take the letter out of the box and lay them on a separate mat. Children up to 6 years are sensitive to movement. It is one of the six Sensitive Periods that Montessori identified. We can apply this strategy to phonics activities as well. It can be a beginning sound, 3 letter words, diagraphs, or any matching activity. There is a lot of movement and engagement in this activity. Your children will definitely love this.
Printable Small Movable Alphabet
CVC words with 3 Dice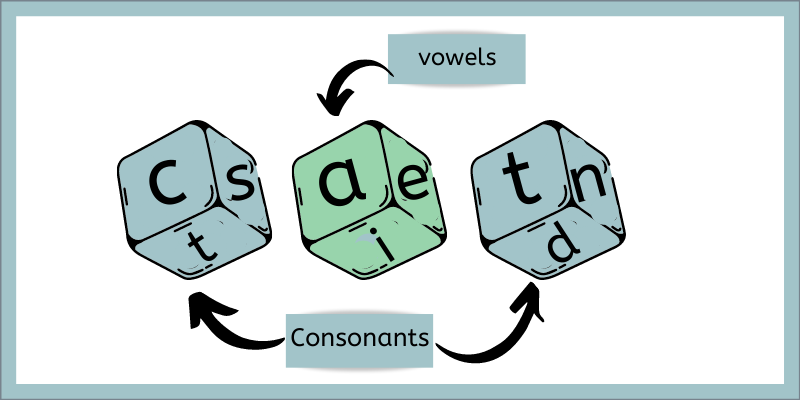 A mom on my Facebook group shared this idea and I fell in love with it right away. All you need is 3 dice and masking tape. Cover the dice with masking tape. Write consonants on all 6 sides of 2 dice. Write vowels on the 3rd one. Let the child roll all three dice and make three-letter words (CVC words). Show the child how to put the vowels in the middle. It will be easy if you use a different colour tape to the vowel. Some words are definitely going to be nonsensical. But that can be fun too.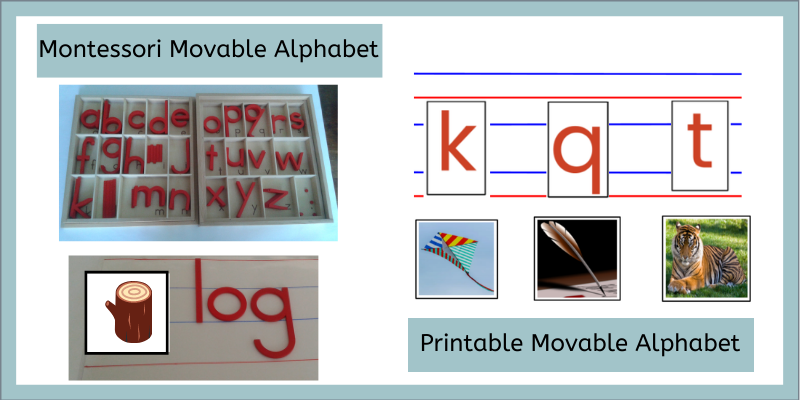 This is an authentic Montessori material designed by Dr. Maria Montessori. You can buy this from online Montessori sites. But if you don't want to buy, there is a simple solution. Printables! If you don't have a real MA you should definitely make your own with printables. It's affordable and easy to make. Print, cut, and laminate. It's that simple. There are endless possibilities for using this activity. Beginning sound, word building, and learning to write on the lines…etc
Laminated Language Mat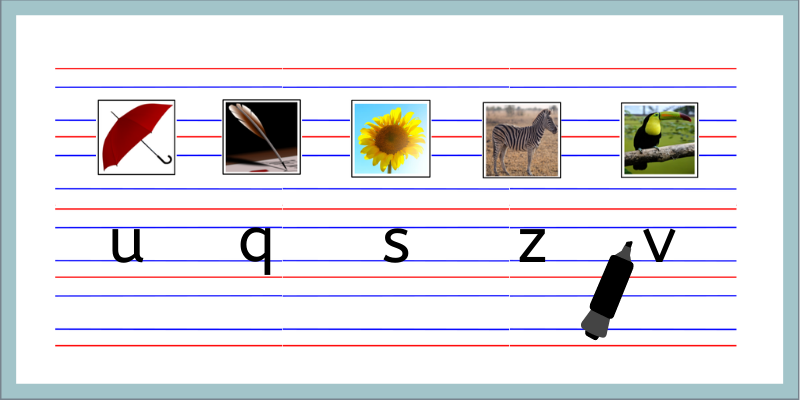 This is almost the same as a whiteboard. You can take a regular sheet of paper, draw the red and the blue lines, and laminate it. Now the child can write on it with whiteboard markers to practice writing on the line.
Phonics Puzzles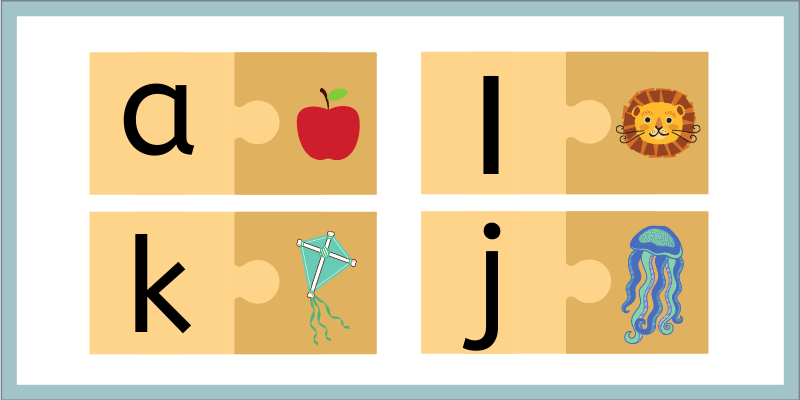 Two-piece phonic puzzles are another great way to practice the Phonics. One-piece should be the letter/CVC word. The other piece should be the corresponding picture. Keep only a few letters/words on a tray at once. Change and rotate weekly with new ones.
Lego words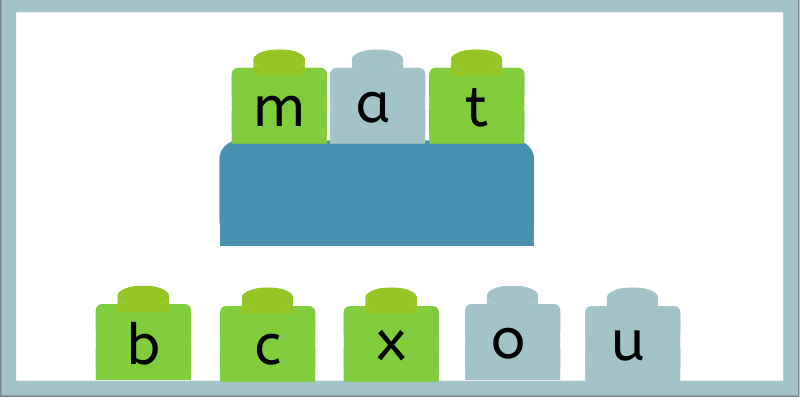 Children love lego. So it is easy to get children engaged in this activity without much effort. Label them with masking tape or write the letters with a sharpie. Make all the vowels in one colour. Then the child will know which letter should go in the middle when building CVC words. The best thing about lego words is it is easy to take them apart and build again. Mega blocks are best for this activity.
I spy with Object Basket
This is a versatile and engaging activity. It can be one-on-one, small group, or as a circle time activity with the whole class. All you need is a collection of small objects or Picture Cards and letters. The letters can be cards, magnetic letters, or Movable Alphabet letters. Give the child a letter and ask him to say the sound. If the child could name the sound, then say, "I spy with my little eyes something beginning with "c" sound". The child should find an object/picture card that starts with "c". You can also do this the other way round. Keep the object box with you, pick any object, and let the child say the beginning sound and find the matching sound. This time, lay the letters on a tray or organizer box, so it's easy for the child to pick them.
I Spy with Classroom Objects
Have a stack of Sound Cards with you. Give the child a card and ask him to find an object in the classroom and keep them on a mat. Show the child how to keep the object and the letter together. What if the object is big (e.g. table) and the child cannot carry it? Then you can ask the child to place it near/on the object. You do this activity one-on-one, in small groups, with the whole class during circle time. Preschool-aged children are sensitive to movement. This is a great activity to keep them moving and engaged.
"Knock knock who is there?"
This activity is best for a small group activity. Have a set of sound flashcards. Pick 8-10 random cards. You can even choose the sounds that you want the child to practice. Turn them upsidedown. "Knock" on any card saying "knock knock who is there?" let a child guess which sound it is. You can even take a poll and let everyone guess. Then open to see who made the right guess. The best part of this activity is the child does not have to know all the sounds. The child can guess any sound. But when the teacher opens the card, the teacher can say. "Oh, it's not a, its c". It is a good opportunity to expose them to new sounds they have not been introduced to.
Salt Tray and Rainbow Letters
I have seen this idea on many preschool websites. It is a sand/salt tray lined with a rainbow-coloured sheet of paper. You can even use a cookie sheet instead of a tray. When the child writes on the sand, the letters will show in rainbow colour. The rainbow colours make the child get excited to do the activity. Incorporate some Sound Cards and corresponding beginning sound pictures. This will make the activity a good phonics practice opportunity.
Blackboard/Whiteboard
Children love writing on the board. So why not have some mini white/blackboards on the shelf with cue cards. You can even draw lines on the whiteboard with permanent markers. Then the child can practice writing on the line before they write on paper or book. The best thing about boards is, the child can erase and write as many times and practice again and again.
Sorting Baskets
You will need a tray, 3-4 baskets labelled with a sound. 8+ corresponding picture cards or objects for each sound. Show the child how to sort them according to the beginning sound. You can do the same with word families. E.g., -at words, -in words, -in words…etc.
Mystery bag
Put some small objects in an opaque drawstring bag. Let the child feel and guess what each object is. Then he can sort the objects according to the beginning sound. Have at least 6 sounds and 4 objects for each sound. You can change or rotate the sounds and the objects daily or weekly. It will be exciting for the child to find out new objects in the bag.
Cut and Paste Phonics
Cutting and pasting is a better alternative for a boring worksheet. You can do this for matching beginning sound, 3 letter words (CVC words), and digraphs as well.
Colouring Sheets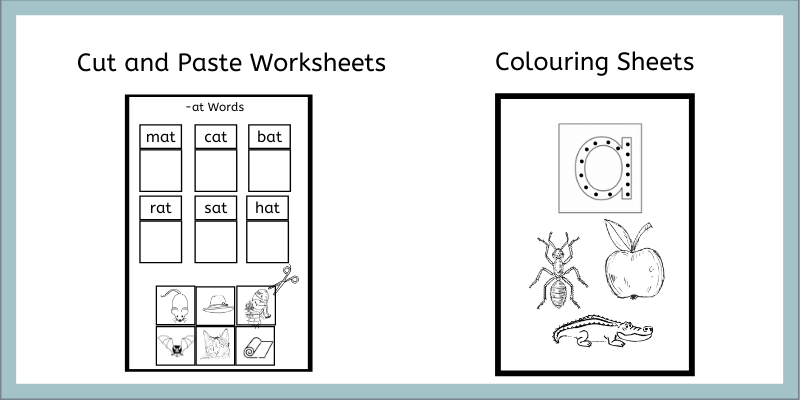 Children love colouring. Phonics colouring sheets are best for practicing the beginning sounds. Include pictures corresponding to the sound. You can even add a big bubble letter for the child to colour. Review each picture and with the child before he starts colouring.
Journaling
Preschool journaling does not have to be perfect. It's a great way to get the child engaged because it is free work. It's a special book they can draw and write. You can give them special cue cards, a list of their friends, storybooks, or a word wall. The best part of journaling is there is little to no preparation for the teacher. This is also a good transition activity. You can keep the children busy while you get ready for the next activity. The children can sit in groups, copy from each other, make name lists, or copy words from a storybook.
Word Wall Letter Hunt
Ask the children to find the sounds they know from the words on the word wall. They can copy it to their journal or do I spy. It is also a good transition activity. Post your word wall poster somewhere accessible to children.
Nature-Walk-Phonics
Go for a nature walk around the school, park, or home garden. Make it a phonics learning experience. You can discuss the beginning sound of the things you see in the environment. E.g., "what is the first sound you hear when you say 'tree'?". If you can give them a clipboard they can write down all the beginning sounds while walking. They can draw pictures later next to the sound.
Conclusion
I hope you like these engaging phonics activity ideas. Rock your next Lesson Plan by including at least one of these each week. The best Preschool activities are simple, they have a goal to achieve and they keep the children actively engaged. When the children are engaged in any activity, it's a better learning experience for them. It is much more effective than the traditional way of teaching. When you keep the activities simple you can keep adding new activities frequently.