It's that time of the year again. It's time to get ready to "Fall into Winter". As a preschool teacher decorating my classroom for winter is one of my favourite things. And no matter how busy I get I don't forget to give the shelf activities a seasonal touch as well. So I thought of making a list of winter literacy center ideas for Preschool/Kindergarten Teachers and Homeschooling Moms. All these activities are Montessori-inspired. Most of them are printables and easy to put together. Keep reading until the end of this post. Because I have listed 10 Winter words for each activity.
Get your a-z Winter Words Colouring Sheets here
Montessori Inspired Winter Literacy Center Ideas
Snowflake Transfer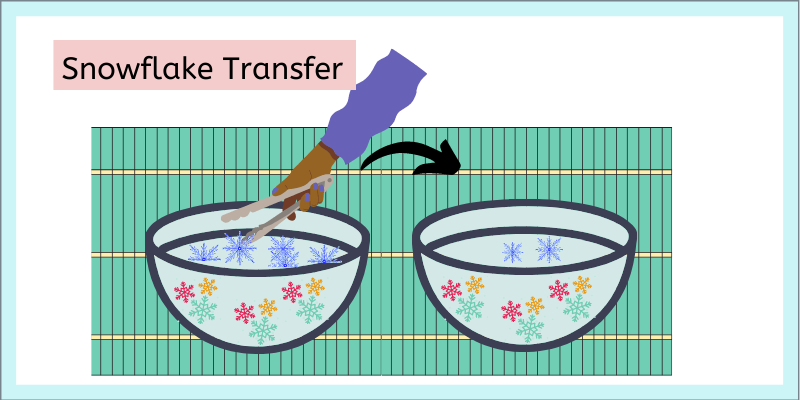 Transferring activities usually belong on the Practical Life shelf. But these activities indirectly prepare children for writing as well. Using fingers, spoons, tweezers or tongs help develop the child's fine motor skills. Fine motor skills are important for a strong pencil grip and good penmanship. To give this activity a seasonal touch, you can change the objects according to season. Children love it when I add new objects to this activity. Small plastic snowflakes or toy marshmallows are great options.
Colouring Sheets – Winter Words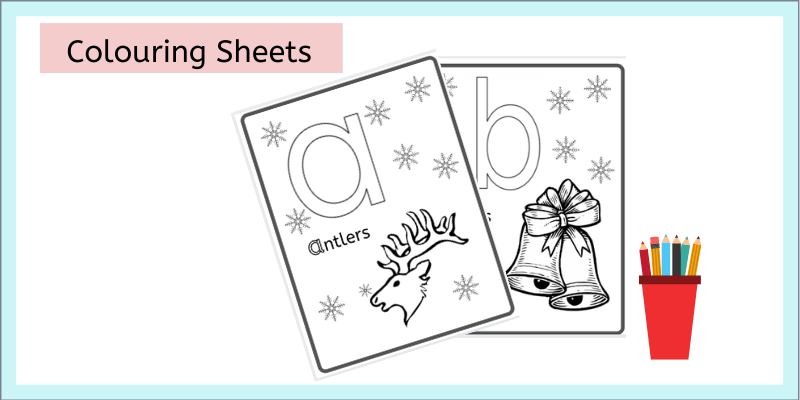 Colouring sheets for beginning sounds a-z and three-letter phonetic words. Colouring sheets are a great way to develop pencil grip strength and penmanship. I like to add theme-related and seasonal colouring sheets to all the areas(centers). For the literacy center, I keep beginning sounds and three-letter phonetic words worksheets. Three letter words are also known as Pink Scheme or CVC words. You can give these colouring sheets a Winter touch to perk up the seasonal spirit. But don't add some snowflakes and call it Winter. It will be more effective and unique if the words are winter-related as well. Download the Free Winter Words a-z Beginning Sounds Colouring Sheets here.
2 Piece Puzzles.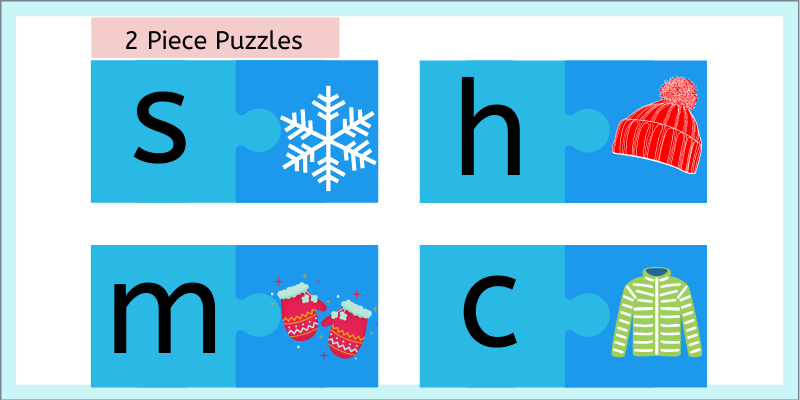 Two-piece puzzles are one of my favourite activities for any area of learning. I like to keep different types of sets stored, so I can rotate according to seasons, holidays or themes. I keep one standard template and add new pictures according to the theme or the season. Then I print and laminate them.
Simple Nomenclature Cards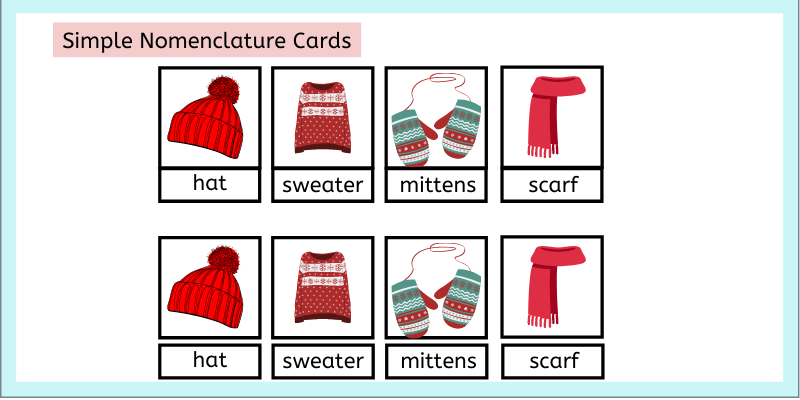 Nomenclature Cards is a Montessori picture matching activity. It includes pairs of picture cards, one labelled and the other non labelled. Depending on the child's reading level, you can use separate labels as well. These are also called 3 part cards. Leave out the name cards for younger children who are not ready for reading. Nomenclature cards are must-have activities on Montessori shelves. They help the development of visual perception, verbal language and enrichment of vocabulary. There are different types of Nomenclature Cards and you can add a seasonal touch to any of these.
Scientific Nomenclature Cards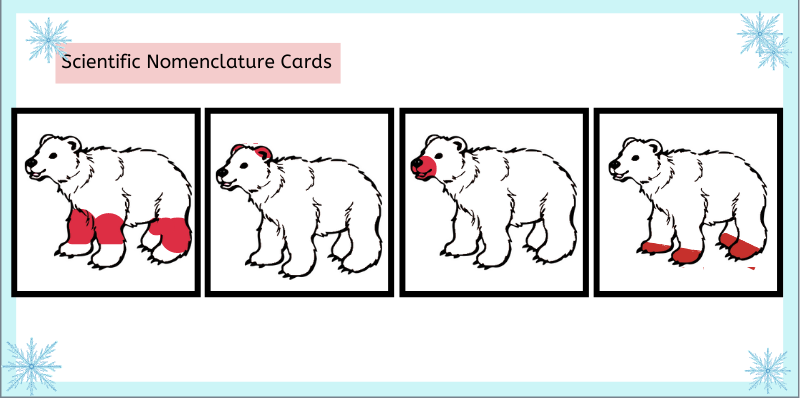 Scientific nomenclature cards teach parts of anything. they include a set of cards with the same picture. In each picture certain part is highlighted in red. To add a winter theme you can make Scientific Normancature cards to teach parts of Polar bears or any winter animal.
Rhyming Cards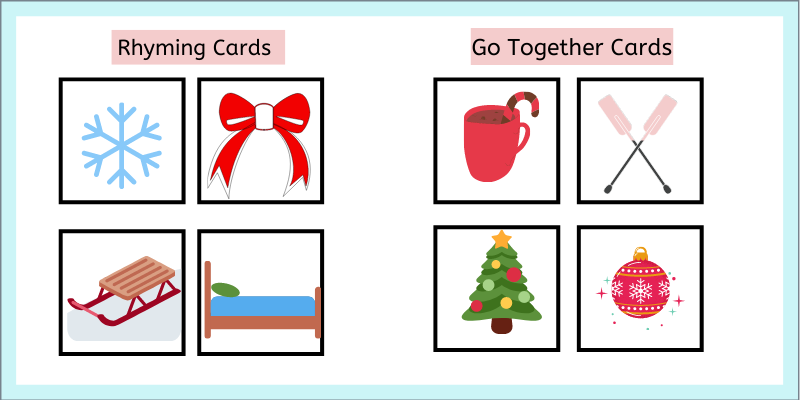 Rhyming cards are a must-have for the language shelf. Even if the child is not at a reading stage they can do matching rhyming picture cards. They help develop language, vocabulary and phonemic awareness. Show the child how to look at the picture cards, say what's in the picture and find another picture that sounds the same. Keep many sets at hand so that you can rotate more often. Winter themed rhyming cards are a great way to add a seasonal touch to your language shelf. It is limited and difficult to find many rhyming words related to a specific theme. So it is ok if only one of the words to be winter-themed and the other word to be any rhyming word. Here are some winter-themed rhyming word examples
10 Winter Rhyming Words
Snow – Bow
Boots – Roots
Mittens – Kittens
Hat – Mat
Elf – Shelf
Coat – Boat
Jacket – Racket
Sled – Bed
Skate – Gate
Blizzard and Wizard
Go Together Cards
Go together cards are the same as the rhyming cards activity. The only difference is the words do not have to be rhyming. They are set of 2 pictures that go together. E.g., fork and spoon or apple and apple tree. Here are some winter-related Go together word ideas
10 Winter Go Together Words
Marshmallows – Hot Chocolate
Hat – Mittens
Snowflakes – Snowman
Jacket – Boots
Christmas Tree – Christmas Ball
Earmuffs – Scarf
Skis – Ski Poles
Ice Skates – Helmet
Santa – Elves
Puck and Hockey Stick
Classification Cards
Classification cards are the same as nomenclature cards. But instead of matching pictures, they are for classifying. Have two or more categories with title cards and at least 4 picture cards for each category. Here are some winter-themed classification cards.
Classification Cards: Four Seasons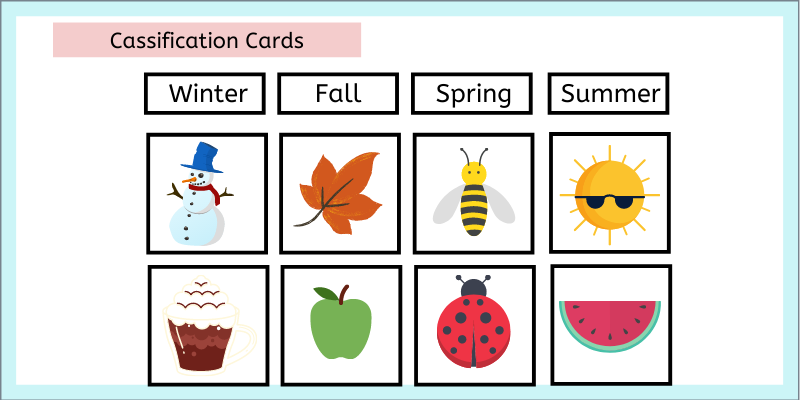 Four sets of picture cards, each set representing each season. You can choose to keep only two or three sets. Make sure you talk about seasons before you make it available on the shelf. Here are some word suggestions for Winter and Fall.
10 Winter Words
Snowman
Snowflakes
Winter Jacket
Boots
Mittens
Winter Hat
Scarf
Hot Chocolate
Skates
Christmas Tree
10 Fall Words
Leaves

Pumpkin
Apple
Corn
Fall Crop
Farm
Thanksgiving (Canadian)
Halloween
Scarecrow
School Bus (back to school)
Classification Cards: Hibernation and Migration
Hibernation and Migration is a winter theme. Have these classification cards ready to add to your shelf when you introduce this theme.
10 Animals that Hibernate
Bears
Skunks
Groundhogs
Bats
Hedgehogs
Chipmunks
Box Turtles
Bumblebees
Snails
Frogs
10 Animals that Migrate
Monarch Butterflies
Birds
Dragonflies
Sea Turtles
Salmon Fish
Hummingbirds
Sharks
Seals
Tuna Fish
Whales
Classification Cards: Winter Birds and Spring Birds
10 Winter Birds
Red & White-winged Crossbills
Snowy Owl
Snow Bunting
Evening Grosbeak
Hoary & Common Redpolls
Black-Capped Chickadees
Northern Cardinals
Common Redpolls
Brown Creepers
Cedar Waxwings
10 Spring Birds
Canada Goose

Baltimore Oriole

Barred Owl
Wood Duck
Western Tanager
Eastern bluebird
Great Kiskadee
Oriole
Red-bellied Woodpecker
Ruddy Duck
Classification Cards: Winter Gear and Summer Gear
10 Winter Gear
Winter Hat
Winter Jacket
Winter Boots
Mittens
Gloves
Scarf
Snowpants
Neck Warmer
Earmuffs
Wool Socks
10 Summer Gear
Sunglasses

Flip Flops

Sun Hat
Umbrella
Sunscreen
T-Shirt
Trekking Poles
Beach Blanket
Beach Umbrella
Floatie
Classification Cards: Winter Sports and Summer Sports
10 Winter Sports
Ice Skating
Skiing
Sledding
Snowboarding
Snowmobiling
Curling
Snow Volleyball
Bandy
Snow Rugby
Broomball
10 Summer Sports
Soccer

Basketball
Rowing
Tennis
Baseball
Beach Volleyball
Golf
Handball
Rugby
Swimming
Winter Themed Storybooks
Every classroom has a storybook shelf or a library. In addition to the class storybook shelf, I like to keep some seasonal books on the language shelf. I also keep some mini whiteboards and washable markers with them. The children can copy the letters, words or sentences, depending on their level. It's a great way to keep the children engaged with minimal supervision.
Conclusion
I hope you like these winter literacy activities. Most of the activities I have listed are Montessori activities. It is not necessary to make all the activities on the shelf seasonal. A few seasonal activities are more than enough for each shelf. The list doesn't stop here. There are many other ways that you can add a winter touch to your shelves. The most important thing is to keep them simple.