Looking for easy Easter craft ideas for kids? Here is a collection of 22 super easy and super cute crafts done by different creators. The best thing about these crafts is they are budget-friendly. You might even have these basic materials at hand. I have sorted them into Easter Egg Crafts, Easter Bunny Crafts, Easter Chick Crafts, Easter Basket Ideas and other Pretty Easter Crafts.
The Quick Lookup will help you jump to your desired craft. I hope you will love them just as much as I do.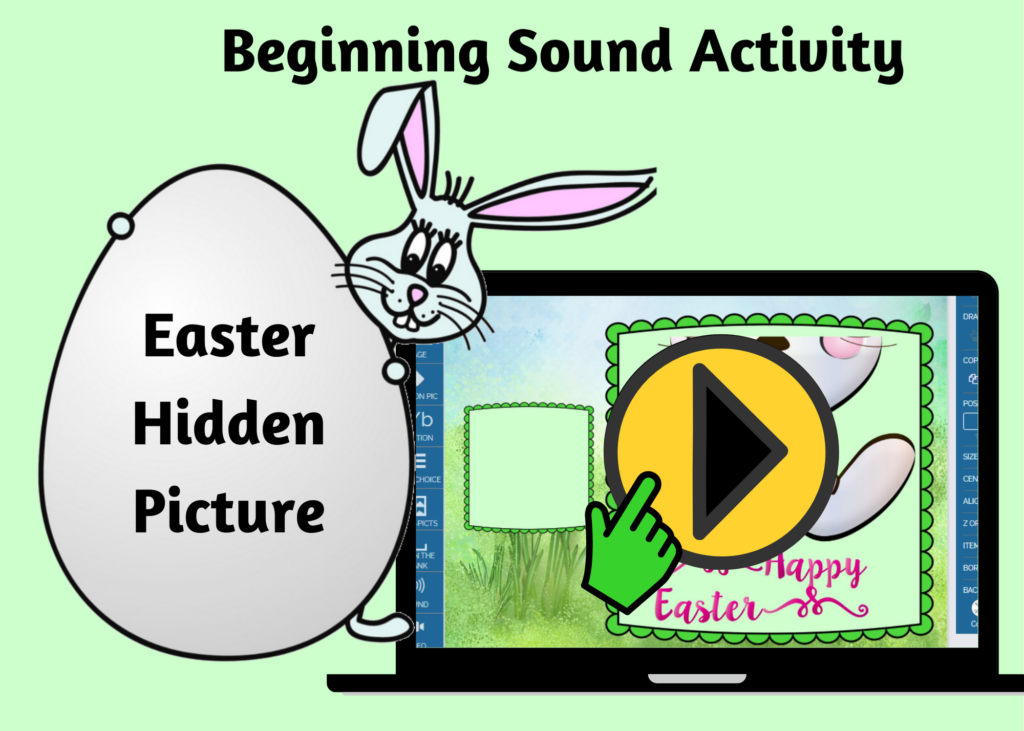 Free Easter Math Worksheets. Counting Easter Easter Eggs 1-10
Easter Egg Crafts
By Mom Brite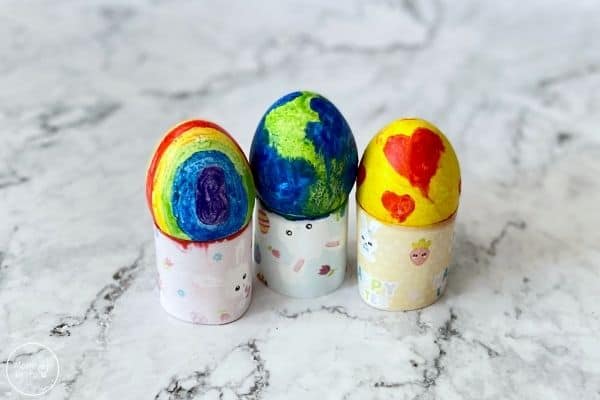 Instead of dyeing eggs for Easter, make these mess-free melted crayon Easter eggs instead! Your kids will love drawing on the eggs with crayons and watch the colours run together. What a fun way to learn and observe the colours mixing making secondary and tritionary colours!
Supplies:
Whatever you need to hard-boil the eggs (we used an Instant Pot)
Crayons
Paper plates, egg holders (free printables available at the end of this post), or bottle caps
Tongs
By Dollar Crafter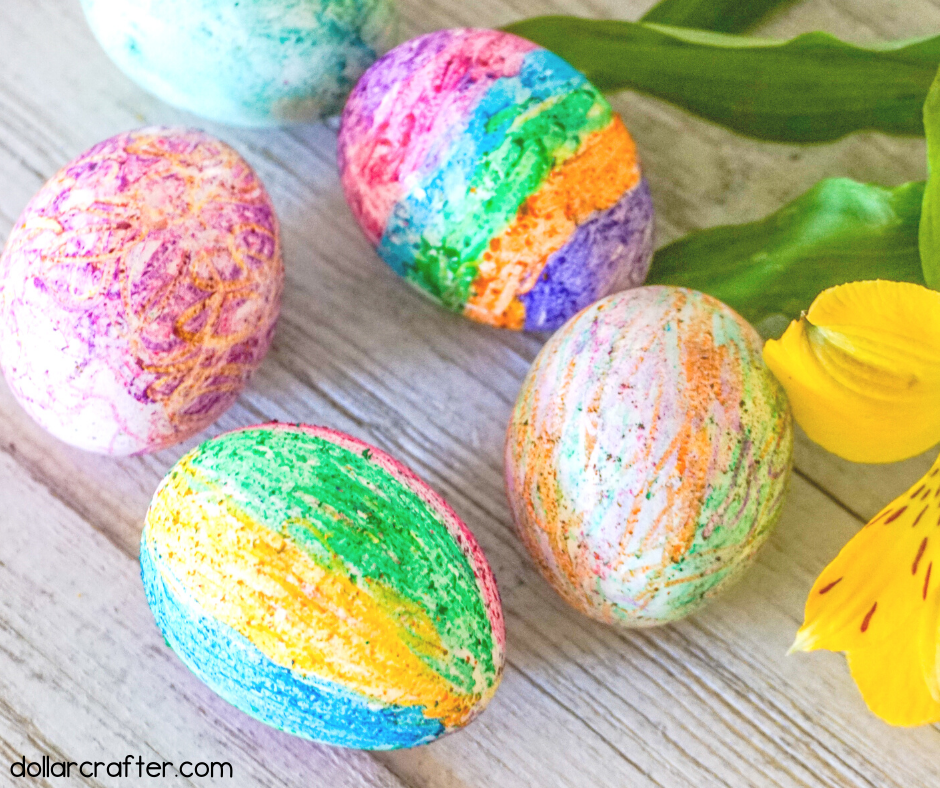 Decorating eggs with crayons is the easiest way to celebrate Easter! Here is another way to do the same craft.
Supplies:
Hard-boiled eggs
Crayons
Egg Carton
By Crafts By Amanda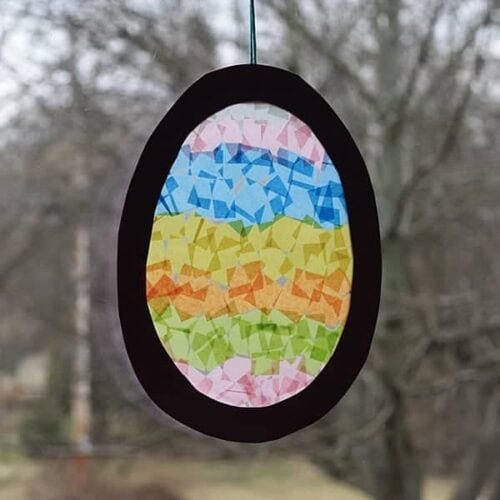 Celebrate the colors of Easter and spring with a pretty tissue paper Easter Egg Suncatcher! This Easter craft is fun for all ages.
Supplies
Clear contact paper – one roll will make a ton of suncatchers!
2 sheets purple construction paper
Tissue paper in various colours
1 sheet white paper
12-inch piece of yarn
Tools
Black marker
Glue stick
Scissors
4 pushpins
Foam board or corkboard
By Emma Owl
Painting Easter eggs with a salad spinner is such a fun activity to do with your kids. Check out how adorable they look on a tree!
Supplies
A salad spinner
Runny paint – normal kids poster painted should be ok. You can always add a drop of water to make a slightly more runny consistency.
Cardstock cut into eggs. The eggs need to be able to fit onto the bottom of your salad spinner.
By Emma Owl
Isn't it the best when creativity and movement come together? Painting these Giant Easter Eggs is a fantastic way to do both. The children get to be creative and paint their own patterns while moving their whole body.
Easter Printable Activities and Colouring Sheets
I always like to give my centers a seasonal touch. The easiest and the cheapest way to do that is to add some printable activities or colouring sheets. Here are some that I found interesting.
By Two Pink Peonies
These Easter-themed do-a-dot sheets are perfect for toddlers and preschoolers. They're the perfect low prep and low mess Easter activity. Do-a-dot sheets are great pre-writing activities too.
By Cenzerely Yours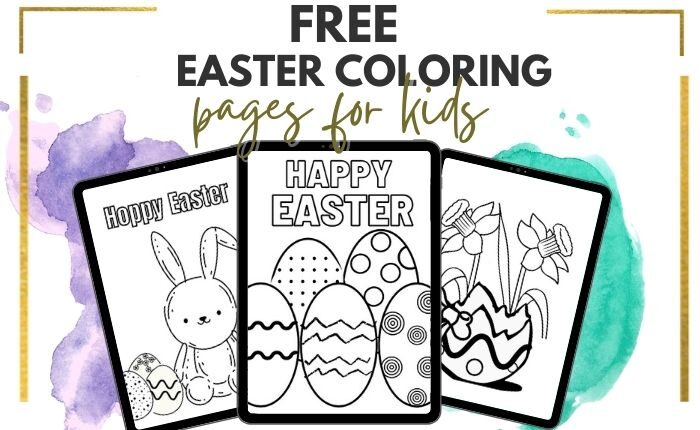 Add a splash of color to your Easter celebration with these cute FREE Easter coloring pages for kids. Have your little Picasso create their masterpiece then hang them up as decoration!
By Fudge My Life
Create your own Easter garland or let your kids craft some fun Easter egg holders with these 3 fun and original printables to help you add some DIY décor to your house for this year's Easter.
Check out these adorable Animal BFFs Colouring sheets!
Easter Bunny Crafts
By Mom Brite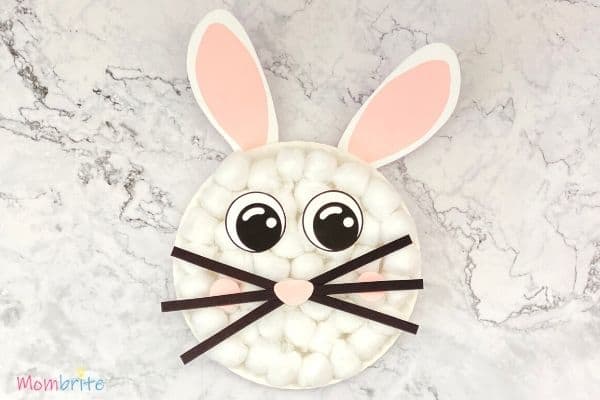 This craft is great for developing fine motor skills and practicing gluing skills. This adorable cotton ball bunny craft is perfect for Spring and Easter. Your kids will love gluing the cotton balls on the paper plate to create their cute baby rabbit!
Supplies
Free cotton ball bunny template
White, pink, and black printer paper or cardstock
Paper plate
Cotton balls
Scissors
White school glue or tacky glue
By Simple Everyday Mom
This adorable handprint bunny is an easy Easter craft to make with the kids!
Supplies
Colored card stock or construction paper
Glue stick
Pencil
White pipe cleaners
Pink pom poms
Glue dots
Scissors
Bunny template
By Get Your Holiday On
Supplies
White Foam Board (2 pieces)
Pink Poster Board
Sandals
Tape
Plastic Easter Eggs
Scissors
By Family Focus Blog
Supplies
Foam Sheets (white and pink, other colours optional)
Scissors
Tape
Glue
Pencil
Elastic Cord
By Simply full of Delight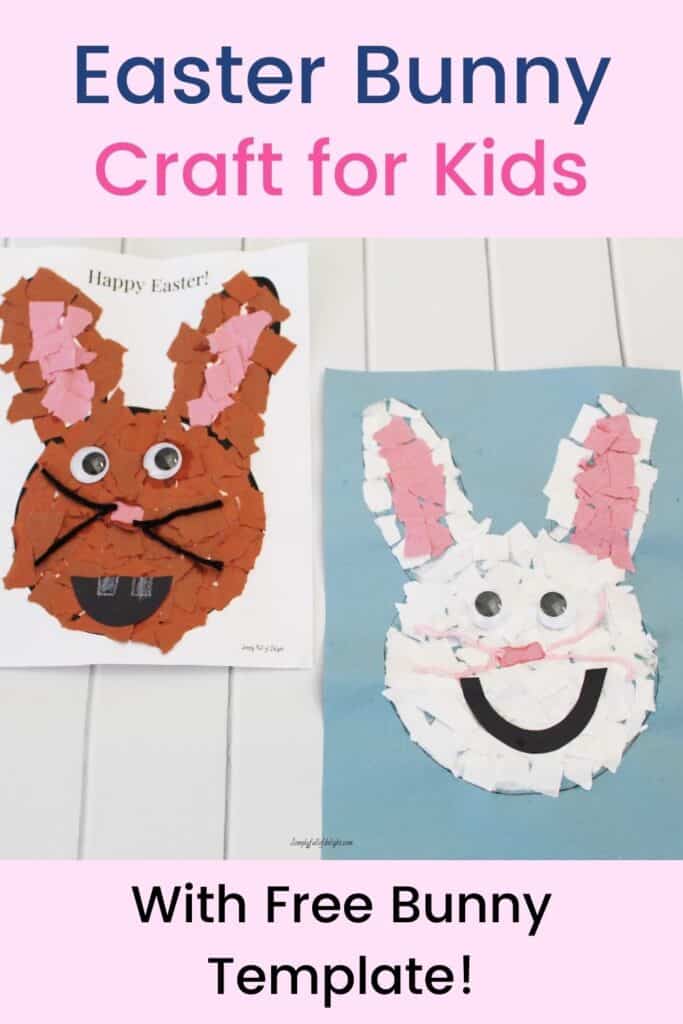 This paper Easter Bunny craft is perfect for kids. Paper tearing projects like this bunny are excellent for developing fine motor skills.
Supplies
Construction Paper (We used white and pink for one bunny. On the other one, we used brown and pink. We also used black paper for the mouth).
Elmer's Glue
Printed Bunny Template
Googly Eyes
Yarn (for the whiskers).
Visit my Teachers Pay Teachers store to find Worksheets, Montessori Printables and Digital Activities
Easter Baskets and Treat Boxes Crafts
By Sustain My Craft Habit
Add a homemade touch to your Easter gift giving this year with a sweet little DIY Easter basket.
Supplies
Felt sheet 9"x12" in charcoal and felt sheet scraps in white, light pink and dark pink (or any coordinating colors of your choosing)
Fabric scissors
Easter Egg Basket Printable
Glue gun with clear hot glue sticks
By Lovely Indeed
Supplies
Printable Easter Bunny Box Template
computer and printer
cardstock
scissors
double-stick tape
items to put inside the bunny boxes
By Ottawa Mommy Club
These Easter Carrot Treat Boxes are so adorable and so easy to make. You can fill these with anything from jelly beans to M&M's. This Easter craft also comes with a printable template.
Supplies
Coloured Craft Papers – orange, green and 2 or 3 more colours
Scissors
Craft Glue
Pencil – to trace the template
Template
By Honey & Lime
These DIY paper plate Easter baskets are a fun and cute craft to do with kids this Easter!
Supplies
Paper plates (2 per basket)
watercolor paints
scissors
stapler
washi tape (optional, but so cute!)
By Simple Everyday Mom
This paper plate chick is simple to make with a paper plate, paint, and some paper!
Supplies
Paper Plates
Yellow paint
Yellow card stock (optional)
Orange card stock
White card stock
Paintbrush
Scissors
Glue stick
Double-sided tape (optional)
By Lil Tigers
Easy Easter chicken and chick craft for kids. It is a lot of fun and makes a great keepsake.
Supplies
paper or canvas
yellow and orange finger paint
paintbrush if needed
red and black markers
By The Inspiration Edit
This Easter themed chick activity is super fun for kids and is a great way to get the little ones having fun. With our free chick template the kids can create this Easter Masterpiece and have fun crafting during this fun season.
Supplies
Coloured craft papers
Googly eyes
Popsicle stick
Craft feathers
Craft glue
Pencil
Scissors
By Ottawa Mommy Club
This Bunny Headband is perfect prop for Easter photos. The craft is so easy that kids of all ages will be able to make it.
Supplies
Pink and white craft foam
Scissors
Pencil
White headband
Flower decoration
Hot glue gun
By Team Cartwright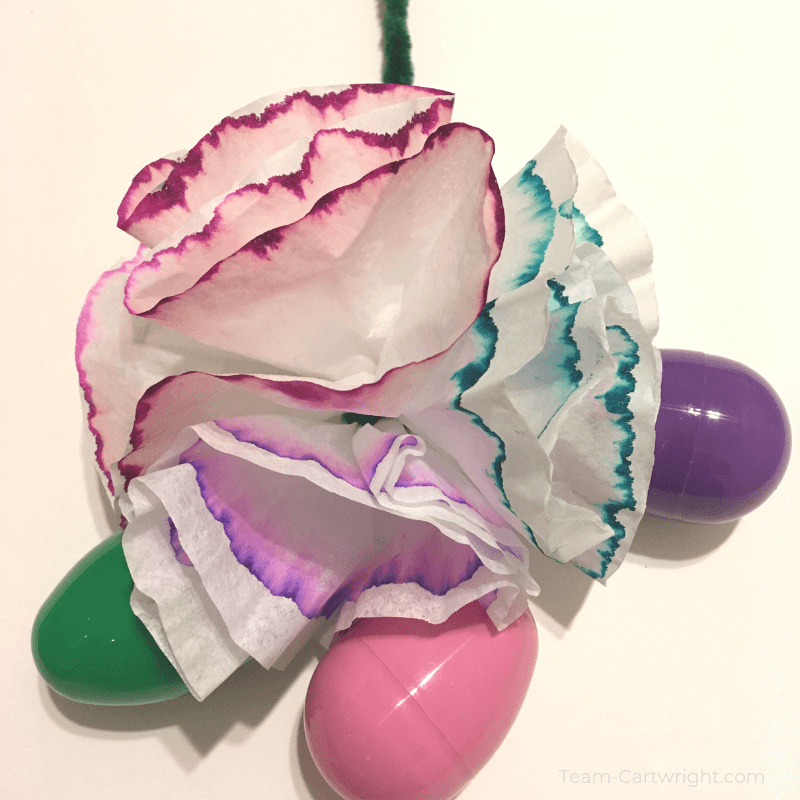 Make beautiful Easter flowers while you learn about chromatography! Easy at home science process art activity.
Supplies
Coffee Filters
Markers
Water
Follow me and Subscribe to get updates on the latest Montessori resources