Sight Words are frequently used words in basic reading and writing. Since these words are not phonetic, the child should be able to identify them by sight or memory. These words are also called popcorn words because they pop up frequently. The best way to teach sight words is repetition and engagement. There are lots of fun activity ideas out there. But some of them are best suited for in-person lessons. So I thought of creating some fun and easy activities you can use for your online lessons.
120 Popcorn Sight Words
Having a list of sight words makes it easy for you to keep track. Because you should not introduce more than 5-10 words a week. I made a list of 120 sight words according to the reading materials I use in my class. My list is also inspired by Dolch Sight Words List and Fry Words. Get my Free Printable Sight Words List here.
I have grouped my list into 4 main groups and 12 mini-groups. When I create activities for my class, I always keep to those lists. This way, I can easily keep a track of words I have covered and will never miss any. It also helps me separate Kindergarten Sight Words and Sight words for Grade 1 & 2 separate.
Printable Sight Words List
3 Easy Sight Words Activities
Two out of these 3 activities are digital Boom Cards™ activities. I stumbled upon Boom Cards while searching for fun and engaging digital resources for distance learning. If you have never heard of Boom Cards, you are missing out a lot. They are interactive, self-checking and paperless digital activities! You can easily make a free account and start right away. There are tons of free and paid Boom Decks you can download and assign to your children. Here are the Sight Word Boom Decks I created. These are ideal for homework assignments as well.
Visit Montessori Pulse Boom Shop
Sight Word Composing Activity
I used my 120 Sight Words List as a guide and grouped them into 4 groups to make 4 Drag & Drop Activities to practice them.
How to Play
Listen to the Auto Audio Play
Look at the Sight Word given
Drag & Drop the letters at the bottom to compose the same word
Submit!
If the child is correct, he will get a checkmark and automatically go to the next word.
If the child is wrong it will give an "oops" message and stay on the same page.
Sight Words Identifying Activity
I used the same 4 lists to create this Boom Activity as well. This is a "Click to Choose Activity". Some children love Drag & Drop activities and some children love to "click". If you have any child who loves to click stuff, this activity is for you.
How to Play
Listen to Auto Audio Play
Look at the given Sight Word at the top
Click on all the matching words
Submit!
If the child selected all the correct words, it will automatically go to the next word.
If the child misses any or makes a mistake it will give an "oops" message and stay on the same page.
Printable Worksheets for Sight Words Writing Practice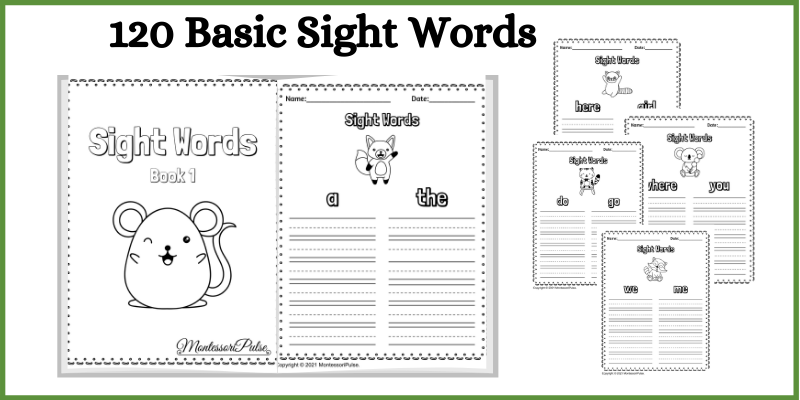 When it comes to children's education, it is not healthy to go 100% digital. Children do need hands-on activities and writing practice. The best way to use printable worksheets for distance learning is to assign them as homework. Parents can print them as needed for the children to do before or after the online class. I like my worksheets clean and simple without too many distractions. This is one reason I like to make my own. I usually add one clipart for the child to colour after he finishes his work. One small clipart is not a big distraction and it is something the child will be looking forward to colour.
Dolch Sight Words and Fry Words
Dolch Sight Words and Fry Words are the most commonly used by teachers. When I created my Sight Words List, I refered to these lists as well as the reading materials in my centers.
Dolch Sight Words
Dolch Sight Words list was compiled by Edward William Dolch. These words were based on the most common words that appeared on the children's books at the time. They were categorized into 5-grade levels. In addition to this, he added another list of 95 nouns.
Pre-primer:
a, and, away, big, blue, can, come, down, find, for, funny, go, help, here, I, in, is, it, jump, little, look, make, me, my, not, one, play, red, run, said, see, the, three, to, two, up, we, where, yellow, you
Primer:
all, am, are, at, ate, be, black, brown, but, came, did, do, eat, four, get, good, have, he, into, like, must, new, no, now, on, our, out, please, pretty, ran, ride, saw, say, she, so, soon, that, there, they, this, too, under, want, was, well, went, what, white, who, will, with, yes
1st Grade:
after, again, an, any, as, ask, by, could, every, fly, from, give, giving, had, has, her, him, his, how, just, know, let, live, may, of, old, once, open, over, put, round, some, stop, take, thank, them, then, think, walk, were, when
2nd Grade:
always, around, because, been, before, best, both, buy, call, cold, does, don't, fast, first, five, found, gave, goes, green, its, made, many, off, or, pull, read, right, sing, sit, sleep, tell, their, these, those, upon, us, use, very, wash, which, why, wish, work, would, write, your
3rd Grade:
about, better, bring, carry, clean, cut, done, draw, drink, eight, fall, far, full, got, grow, hold, hot, hurt, if, keep, kind, laugh, light, long, much, myself, never, only, own, pick, seven, shall, show, six, small, start, ten, today, together, try, warm
Fry Words
Fry Words lists is a list of 1000 high-frequency words compiled by Dr. Edward Fry. These words are divided into groups of 100 words. The first 100 words are considered the most common words in the English Language. I will list only the first 2 groups here for your reference
Fry Words Group 1
a, about, all, am, an, and, are, as, at, be, been, but, by, called, can, come, could, day, did, do, down, each, find, first, for, from, get, go, had, has, have, he, her, him, his, how, I, if, in, into, is, it, its, like, long, look, made, make, many, may, more, my, no, not, now, number, of, on, one, or, other, out, part, people, said, see, she, so, some, than, that, the, their, them, then, there, these, they, this, time, to, two, up, use, was, water, way, we, were, what, when, which, who, will, with, words, would, write, you, your
Fry Words Group 2
after, again, air, also, America, animal, another, answer, any, around, ask, away, back, because, before, big, boy, came, change, different, does, end, even, follow, form, found, give, good, great, hand, help, here, home, house, just, kind, know, land, large, learn, letter, line, little, live, man, me, means, men, most, mother, move, much, must, name, need, new, off, old, only, our, over, page, picture, place, play, point, put, read, right, same, say, sentence, set, should, show, small, sound, spell, still, study, such, take, tell, things, think, three, through, too, try, turn, us, very, want, well, went, where, why, work, world, years