Broken Glass Crafts is one of my favourite things to do with my tween and my preschool/kindergarten children. This is a craft style that I repeat throughout the year for many theme crafts. I love the fact that I can address many sills like colouring, cutting and gluing in one craft There is little to no preparation, budget-friendly and versatile. The best thing about this craft is, it will keep your children busy for a very long time. You will love how children can spend hours picking up colours and shapes matching and gluing them. Let's find out how to plan this craft according to your children's skill levels.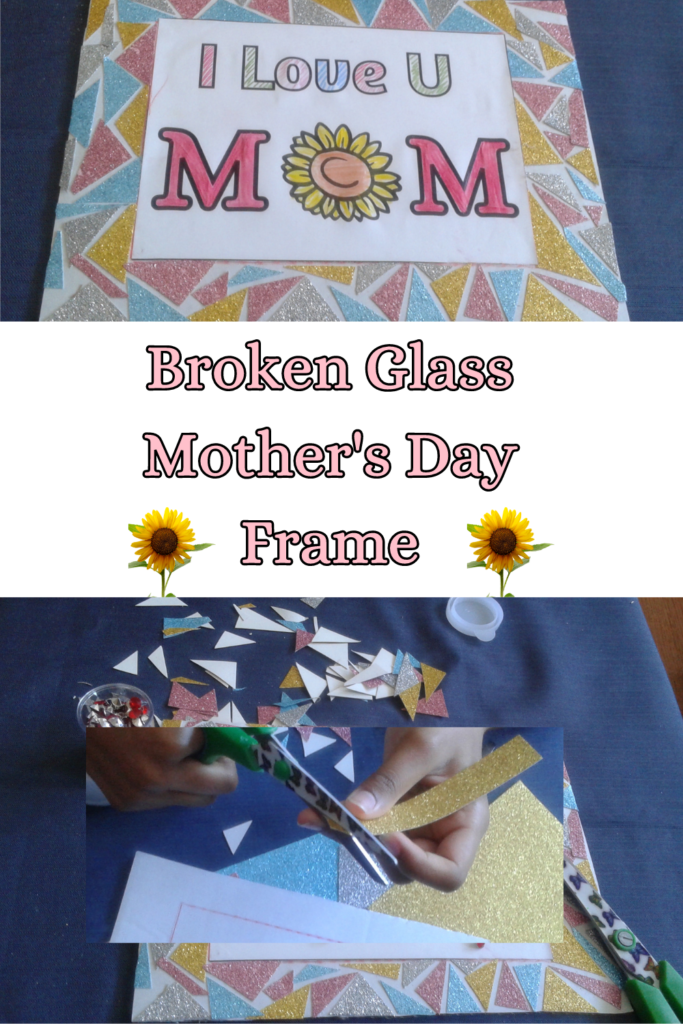 Materials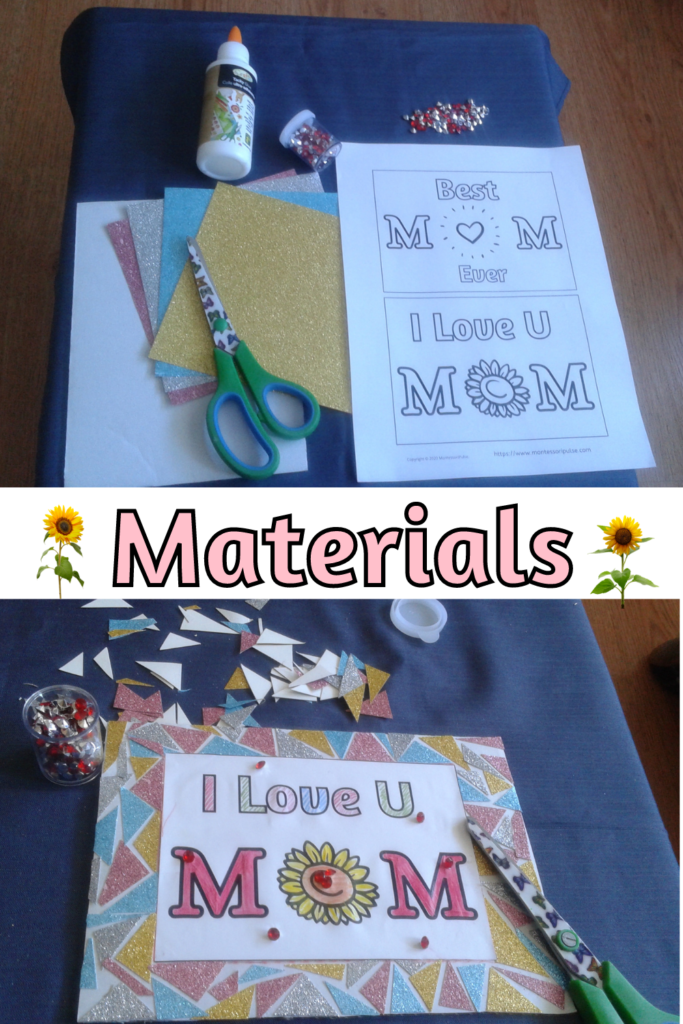 Cardboard
Glitter sheets/Coloured Paper
Glue
Gems (Optional)
Colour Pencils/Markers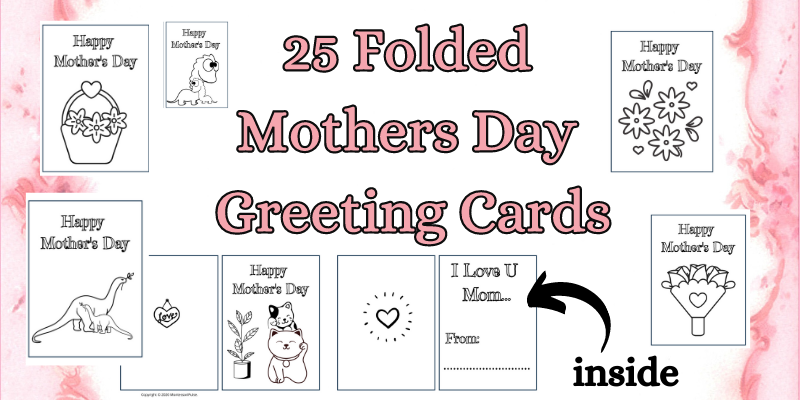 Free Mother's Day Craft Template
Step 1 Coloring
Printout the free templates on white paper and let the children colour them. If the children have not yet developed colouring skills, you can give them tiny stickers to decorate. Peeling stickers is fine motor activity. So it will indirectly help their pencil skills.
Step 2 Cutting
If you want your children to cut the shapes out of glitter sheets, make sure to give them strips, instead of the whole sheet. That way, the children have more control over their cutting. Show them how to cut triangles with the strips. Even if they don't come out as triangles, it is ok. Because broken glass is never perfect. If the children get tired you may help them too.
Once you have enough pieces put them all on a tray/bowl. If you are working with a big group of children(classroom), divide them into a few trays to be used in groups.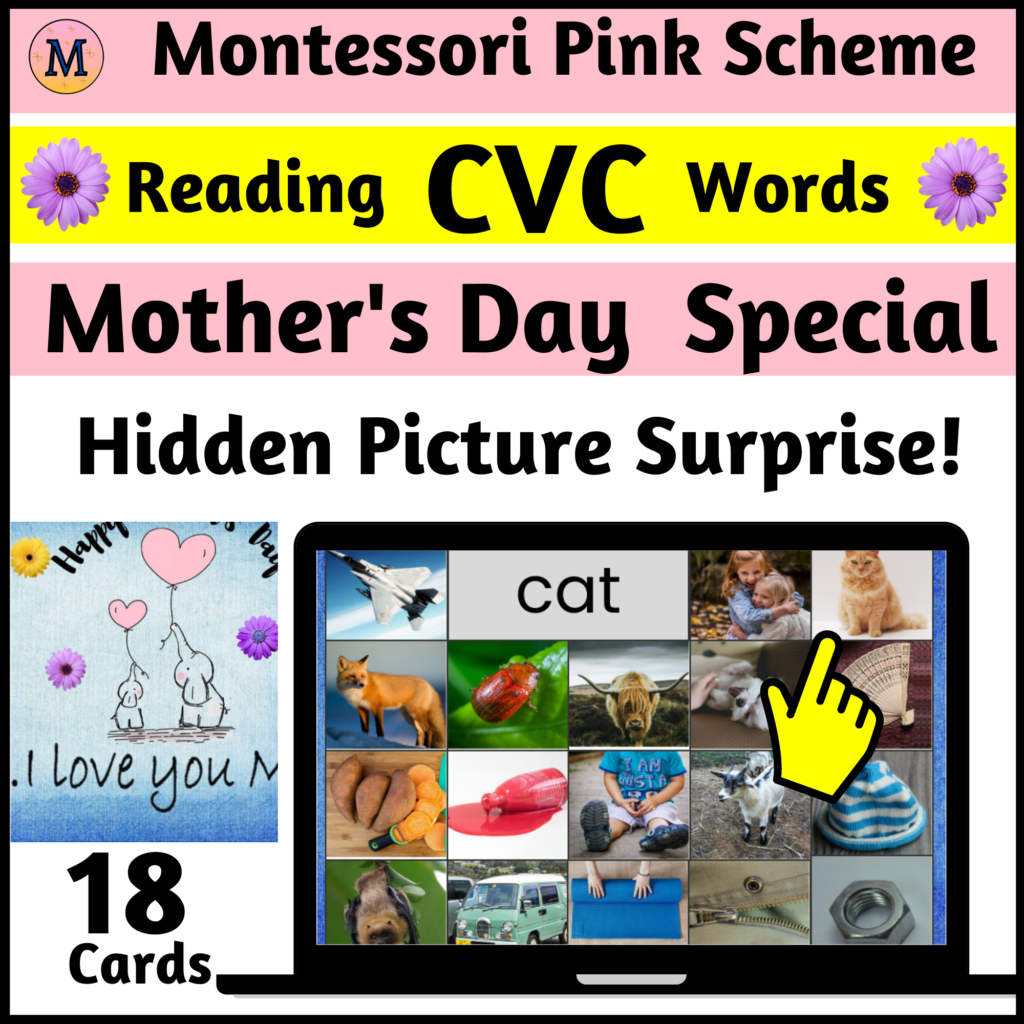 Step 3 Pasting
Draw the outline of the frame according to the size of the template.
This is my favourite, messy and fun part of the craft. Messy and fun always mean creativity. Children will spend 'hours' searching for the 'perfect shape', 'perfect colour'. This is also a good opportunity to promote "sharing". Let the children trade pieces or share with other groups. If you don't want to make this a gluing activity, you can always choose adhesive glitter sheets. Then the children can peel and paste them easily.
Children can choose to keep gaps between shapes. But it is not a must. We have tried both ways. They both come out pretty cute. Let the children decide if they want to add gems. Because when it comes to Mother's Day craft, "prettier, the better". Or "Shinier, the better". We were planning to add them. But my tween decided that the glitter sheets added enough shine to it. Let your children decide what their mommies will love.
You can even turn this into a refrigerator magnet by pasting a few strips of magnet sheets at the back.