"Shapes" is a theme that can be integrated into many areas throughout the year. This simple Jack-o'-Lantern craft activity is a great way to practice basic shapes during the first two months of school. The main purpose of the craft is to practice gluing skills and learning shapes. Depending on the skill levels of your children, you can include or exclude the cutting part.
Jack-o'-Lantern with shapes – Activity Ideas
Isolate one Shape
This is a great way to let your children explore different sizes and types of one particular shape. For example, there are many kinds of triangles. Even if your children are not ready to learn the names of the triangle, they will notice the differences. They can explore different patterns and new shapes when you put 2 or more of them together.
Few Shapes – Controlled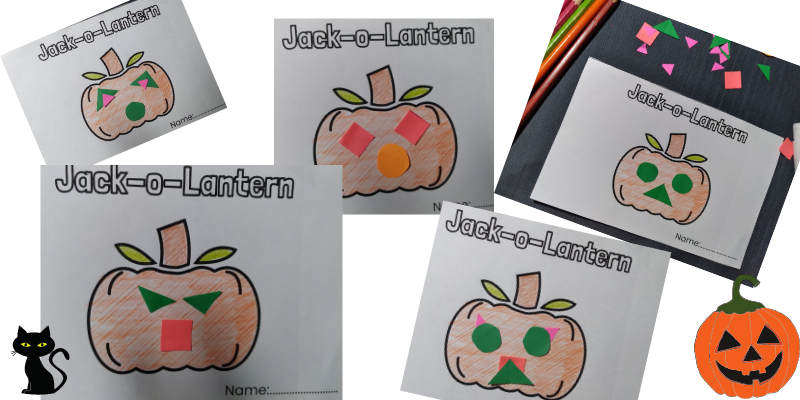 In Montessori, when we introduce new vocabulary(colors and shapes), we always take at least three new words at once. For example, if you are introducing shapes, you should take at least three new contrasting shapes at once. (Read, The Best Strategy to Teach New Words – Montessori Method). This jack-o'lantern craft activity is a great way to practice few shapes once they have been introduced.
Jack-o'-Lantern Shapes Booklet – Keepsake Coloring Book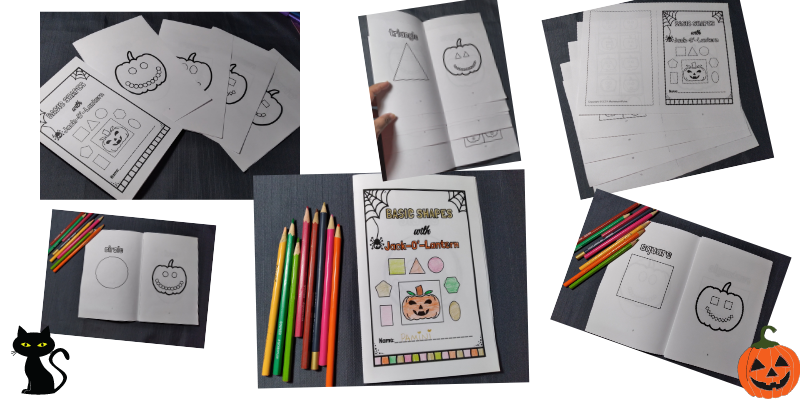 Children love keepsake booklets. This booklet has 7 shapes and those shapes in Jack-o'Lanterns. Even though this is a coloring book, you can let the children can and/or paste the shapes as well. The shapes included are circle, square, triangle, rectangle, pentagon, hexagon, & oval.